Roblox Error Code 6 is an error that will be displayed to you as soon as you open Roblox after downloading it. Error Code 6 can be the most annoying as it won't even let you begin with Roblox. You will see this error while starting the Roblox studio.
What does Roblox Error Code 6 exactly mean?
Roblox Error code 6 will not allow you to play any game. You will not be able to gain access to any games.
You will see this message when you try entering into the Roblox studio:
An error occurred while starting ROBLOX
Details: HttpOpenRequest failed for GEThttp://setup.roblox.com/versionQTStudio?guid26455, Error Code: 6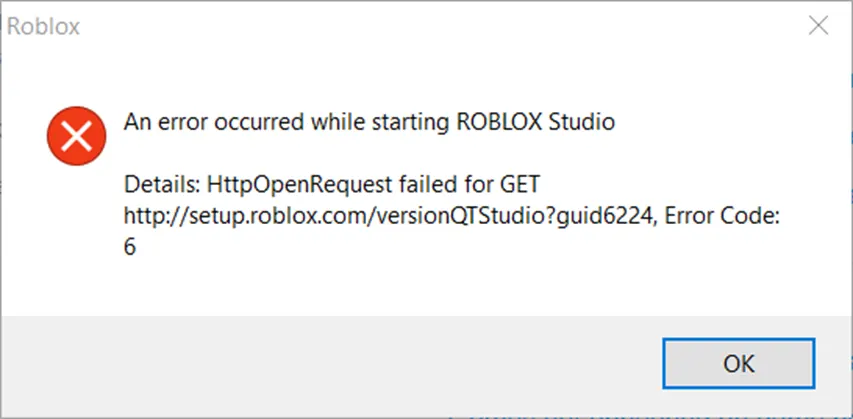 This Error Code 6 occurs when there is a corrupted DNS cache and this will prevent the game from communicating with its servers. You might not see this error when you are opening the Roblox Flash player but instead, you will see this when you are opening Roblox Studio.
More Roblox Errors Fixes:
Now let us see what causes Roblox Error Code 6.
Also Check: Roblox Jailbreak Codes & ATM Updated List 
Causes of Roblox Error Code 6:

The three main causes of this error can be an internet connection, antivirus detection, and faulty launcher.
Other reasons that prevent the starting of games include wrong IPv4 configurations, corrupted DNS cache, and improper Firewall settings. Whenever Roblox detects anything of this sort, it stops itself from launching.
Also Check: Roblox Controls For Beginners
The three main causes will be explained in detail here.
Internet connection:
An unstable internet connection can cause many errors including this one. If your internet connection is not working properly, then it will prevent Roblox from communicating with other servers. The corrupted DNS caches also come under this. All of this will result in preventing players from playing games on Roblox.
Faulty launcher:
If you have downloaded Roblox from untrusted websites, then it will surely lead to faulty launches. Make sure that you download Roblox from their original website and you will not have to deal with such errors.
Antivirus detections:
Antivirus detections may stop Roblox from working. Antivirus works when it detects any suspicious activity in the app and it will lead to the stoppage of that particular app. If you still want to continue, you can uninstall third-party apps of antivirus detection or you can try simply disabling them. Antivirus apps can also be the reason for Error Code 6 on Roblox and you can check Roblox's working after uninstalling or disabling them.
If these things do not work out, there is a possibility that there is a problem with your local disc. You can check that in a directory path: https//clientsettingscdn.roblox.com/v1/client-version/windows player.
There is a fix for every issue. Don't worry as we have got the right fixes for you to help you with this issue. We will guide you and provide you with ways to fix Roblox Error Code 6.
Ways of fixing Error Code 6 in Roblox Windows 10/7:
Just follow these ways to fix Roblox Error code 6.
Before you start trying these fixes, it is always a good idea to just power cycle your internet router. All you need to do is press and then hold the power button of the router for 10 seconds. Sometimes, the problem can be solved just by that.
Also Check: How to Drop Items in ROBLOX?
Trying a different internet connection:
Try connecting to a different internet connection or you can also connect to a mobile hotspot to check if your internet connection is the problem. If this does not fix the problem, then it might be your ISP that is causing the problem. Contact your ISP to know if it is responsible for blocking the connection to the game and to help you.
Modifying the IPv4 Configuration:
If the game server is not able to detect the accurate DNS address of your device, then this error might occur. Change your IPv4 configuration as this means that they are not set properly.
Steps to be followed:
Step 1: First, open Run by pressing Windows key + R together.
Step 2: Here, type the command "ncpa.cpl" and press Enter.
Step 3: Network settings will be opened in the control panel.
Step 4: Right-click on the currently used network to then select Properties.
Step 5: You will then have to manually check the Obtain DNS Server Addresses by double-clicking on the Internet Protocol Version 4(TCP/IPv4) option.
Step 6: In the first box you see, type 8.8.8.8, and then in the second box, type 8.8.4.4.
Step 7: Click OK.
Running compatibility mode:
Running Roblox in compatibility mode will easily solve Error Code 6.
To run Roblox in compatibility mode, follow these steps:
Step 1: First, the latest version of Roblox should be downloaded from the official website.
Step 2: Right-click on the ROBLOX.setup.exe file to then select properties.
Step 3: Go to the compatibility tab.
Step 4: Then, just mark the box Run this program in compatibility mode.
Step 5: Then all you need to do is choose the current Windows operating system you have and your setup is ready.
Also Check: How to Uninstall ROBLOX?
Firewall and Anti-Virus Blocks:
You must be familiar with antivirus detecting apps like Avast, Norton, and Kaspersky. These apps can detect Roblox as malware. To fix this, you can temporarily disable these apps and then check if Roblox works. Sometimes, your router's Firewall can also block the connection. You can check on that, too.
Fixing the restriction issues:
It is always necessary that Roblox should be downloaded from less restricted network areas. Some network areas can be detected as malware causing the Error Code 6.
Switching to another ROBLOX Account:
Switching to another account can be tried if you are not able to play games. You can also try creating a new account. If that does not work, you can try switching between different browsers. That might help to fix the issue, too.
Reinstalling ROBLOX:
Most people always opt for reinstalling the app if nothing from the above works. It is a very easy step and can go a long way.
You just have to uninstall the app and then reinstall it. This will hopefully not bring you the error again.
Roblox Download & install to fix the issue.
These are the ways you can try to fix Roblox Error Code 6.
Endnote:
You will recognize the Roblox Error Code 6 when you see this message:
An error occurred while starting ROBLOX Details:
HttpOpenRequest failed for GEThttp://setup.roblox.com/version?guid26455, Error Code: 6
There can be many reasons why this error pops up, but using the above ways will almost always fix the error.
Roblox Error code 6 is one of the many errors that make a player's experience on Roblox unpleasant. Hoping, that you find this article helpful and it aids you in fixing this error.
Keep following TechZPod for more guides.