How to Drop Items in Roblox?
For those who have never played any game in Roblox, dropping items would not bother them at all as they might think it is an easy process, but the fact is that dropping items while playing games is one of the hardest things you do in Roblox. Dropping items in Roblox means that players can select any item from their inventory and pick it up and drop it at any location nearby them in the game, while other players have the option to pick up the item dropped by one player.
Users, especially beginners and first-time users find it very difficult to actually understand how this works. Actually, the drawback in Roblox is that there is no tutorial or demo that teaches users how to play games or drop items or do anything in Roblox, so the users find some features difficult to use as the interface cannot be known in a while, users need to explore. Dropping items in Roblox basically means refreshing your inventory so that you can get rid of old items and the new ones that make your profile cool and fun.
Also Check: How to Fix ROBLOX Error Code 267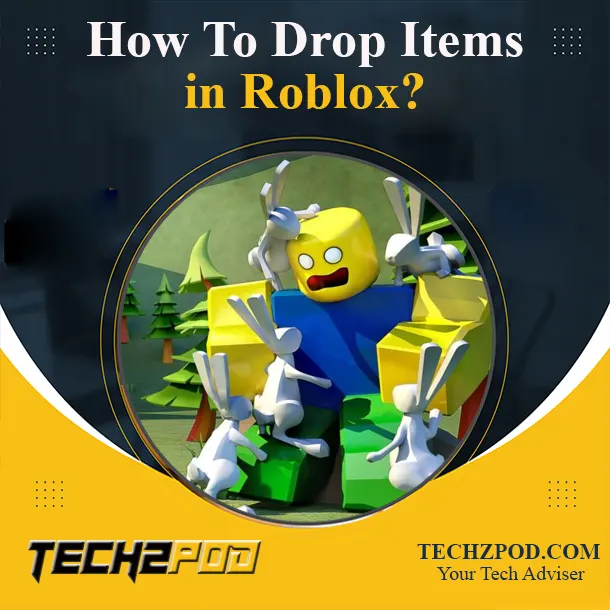 But it is not as easy as it appears, users generally take a lot of time to learn this feature. Although this is a very cool and attractive feature in Roblox, all the games in Roblox do not support this feature and also many devices also do not support this feature. So, if that is the issue with a user, he or she cannot drop items. But this is a very interesting feature in Roblox as it allows players to upgrade their inventory with the latest items by dropping the items that are not required by them.
Also Check: How to Fix ROBLOX Not Loading Issue? (7 Ways to solve loading issue)
Steps to Drop Items in Roblox
Dropping items in Roblox is not a complex feature but it is a little tricky and players take time to use this feature with full efficiency. You need to keep practicing the process of dropping items in different games to become a pro at it. Players can drop items using different devices like PC, mobile phones, or Xboxes with the steps given below.
Keep following TechZpod.com for more!
For PC
To drop various items in Roblox and manage your inventory while playing games using PC, users need to follow the below-mentioned steps:
Firstly, the users need to ensure that they are playing a game in Roblox using a server that allows dropping items, otherwise, they would not be able to do so.
After that, make sure that you have some item in your hand to drop and this can be checked from your profile by going to inventories.
Then, join any of the Roblox games and pick up any item from the inventory that you want to drop.
After that, press the backspace button of your keyboard once or twice. You can also double-click the left mouse button or press the delete key multiple times. This will drop the picked item somewhere near your character in the game.
For mobile users
Those who are using Roblox and playing games on their mobile devices can also drop items in the game. But they have to do it in a different way. Follow the steps below to drop items using a mobile:
Since most of the mobile servers do not allow users to drop items in Roblox but, there is a certain way users can do it.
Just open any Roblox game on your mobile and pick up an item from the inventory that you don't want anymore.
Then open the keyboard of your mobile phone as you do for chatting while playing a game in Roblox.
You need to press the backspace key several times to drop items. A minimum of 7 times is suggested to drop an item.
This is not a method, but a trick that allows mobile users to drop items in games played using Roblox.
Also Check: How to Make Hair in Roblox? & Best Roblox Hair Codes!
For Xbox users
Xbox users can also drop items while playing Roblox games in very simple steps:
You should join the game using the Xbox device that you have and then pick up an item you want to drop.
Then, click the down arrow key of your d-pad several times until the item is dropped.
In just two simple steps, Xbox users can drop items from their inventory in the Roblox game.
Users can drop items in Roblox only when the server, device, and the game that a user is playing is supported for dropping items. If any of this would fail, then you would not be able to drop items from your inventory in the game. One of the great features while dropping items in a Roblox game is that the different players in the game can pick up the items dropped by each other. Also, players can drop several items in a single game in Roblox, so that they can upgrade their inventory without purchasing an item.
Also Check: Is Roblox Down? Live Status, Current Server Outrage and Problems
FAQs
Can players drop items from their phones using the Roblox app?
Ans – Yes they can drop items with mobile phones but only if the device supports this feature.
Can players drop multiple items in a Roblox game?
Ans – yes the players can drop as many items as they want in a Roblox game.
Is dropping items necessary for players in a game?
Ans – No, it is an additional feature that players use for fun and upgrading their inventory with the latest items.
Can the dropped items be picked up again in Roblox?
Ans – It is difficult to pick up an item once you have dropped it but the other players can pick up the item.
Does Roblox support external keyboards for dropping items on the phone?
Ans – No, the users need to use the Roblox keyboard while using a mobile phone.
Can users drop items in all the Roblox games?
Ans – No, many Roblox games do not support dropping items so you need to check it before complaining.
Can we reach customer support if this feature is not enabled?
Ans – Yes you can reach them but they won't be able to help you enough because this feature varies from device to device and from one os to another.
Can players pick items in one game and drop them in another?
Ans – No the users cannot pick and drop items between two games simultaneously.
Also Check: How to Wear Two Hairs at Once on Roblox?