how to make hats on roblox: Roblox is a very user-friendly game developing and playing platform and to ensure that the players can provide a customized touch to the characters they develop or play in a Roblox game, it allows the players to add various custom-made objects and accessories to their character.
What does Making a Hat mean in Roblox?
The feature of customizing the characters of a game is trending and is in great demand by the players. A hat is once such a customized accessory that the players can create by using 3-dimensional modeling. A hat is similar to other head accessories like headgear or a headband and it can be created as per the want of the player and this provides the players with a personal gaming experience in Roblox. In the language of Roblox hat is termed as mesh.
Also Check: How to Uninstall Roblox?
The players can decide the shape, color, texture, appearance, etc of the hat they want their character to wear and a customized hat differentiates a player from others by giving them a unique identity. This is really a very interesting feature of Roblox and the young players really like customizing the character as per their personality. In Roblox, creating different hats is a way to show their personality in the game to the other players.
How to Make a Hat in Roblox?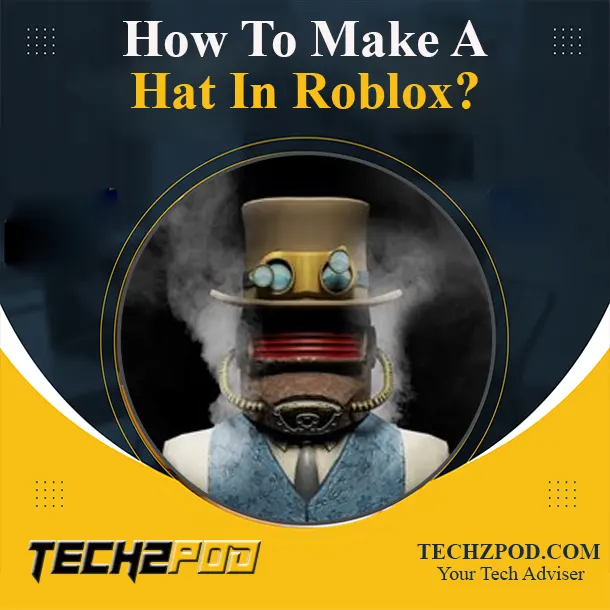 How to Make Roblox Hats while playing games, users can use two ways or methods. One of the methods is very simple and using this anyone can create a hat in Roblox but the second method is a little complex and it requires expertise in designing and 3-d modeling to create a hat. This is why the second method is known as an advanced approach and is not preferred by beginners.  So, most of the users find the first method more satisfying and useful than the second one. The two methods are given below:
Method 1: Retexturizing an old design
This is a very simple and easy approach to create a  hat in Roblox as users do not need to start from scratch. They can pick up any hat design they like and can change its texture and color as per their requirements to give a personal touch to the character. Even beginners and first-time players can create a hat in Roblox using this approach. Users can follow the below mentioned steps to create a hat by retexturizing an old design:
Firstly, log in to your Roblox account and then load any Roblox hat from the catalog in the Toolbar on the studio.
After selecting any hat from the search bar go back to Roblox studio and open any game that you want to play and click on the edit menu.
Then you will be redirected to the Roblox studio home page, where you need to go to the toolbox menu and select models.
In models, type the name of any hat that you want your character to wear, and then go to the explorer tab and select  Mesh.
After that, scroll down the option of texture id and select and copy the asset id of the hat.
Then go back to Roblox studio and paste the asset id in the place of catalog id.
After that do a right-click on the texture from your mouse and click on save image as and save this to your desktop.
Once you have saved the texture you can go to paint.net to download a free tool to edit it.
After downloading any editing tool, load the saved texture on that toll and change its color, texture, appearance, etc as the way you want it for your hat.
Then save the edited texture and go back to Roblox Studio and open the develop menu.
In the develop option go to my creations and click on the Decals tab, where you can create a new decal.
After that, you will find the option of creating a decal, where you need to choose the saved texture file from your desktop and click on the upload button.
Then, you will see the uploaded file under the Decals option as a link, you need to click on that link to create a new asset id for the saved texture.
Once it is generated,  you just need to copy it and replace the mesh ID by going back to Roblox with the new asset Id. Your hat will be created and you will be able to see the changes in the old selected hat once, the new id approved.
The drawback of this approach is that it limits your horizon in terms of the shape and size of the hat as you can only change color and texture from the available options.  But this approach is very handy and simple for players who just create hats for fun and to make the gaming experience interesting.
Also Check: How to Fix ROBLOX Error Code 267?
Method 2: Creating a completely new hat
This approach is very technical for creating hats in Roblox as it requires good knowledge and practice of designing and 3-dimensions modeling to create hats from scratch.
If you want to create a completely new hat with a different shape, color, and texture that is not in the catalog of Roblox you can use the advanced approach.
This approach is similar to designing a game in Roblox where you need to type codes to see the effect of them on the hat that you have created.
 For that, you need to learn 3-dimensional modeling as well. Although it is a long process and requires a lot of effort, once you learn it you can become a master at creating customized hats.
You can learn about design and modeling from various tutorials and videos on youtube as the official website of Roblox does not provide any tutorials for its features.
The drawback of this approach is that it is very time-consuming and expert knowledge is required to create hats in Roblox from the design, to texture, to color, and the final layout.
So, only those who have an adequate practice of design and 3D models can create it without flaws. But if a player wants to really differentiate his or her character in any game of Roblox then this is the only way of doing it
Also Check: Roblox Down Detector
FAQs
Does Roblox guide players in creating hats?
Ans- No, Roblox does not provide any guide or demo for making hats for characters in a game.
Can we create hats of different colors but the same texture in Roblox?
Ans- Yes, users can create hats of different colors by editing in the paint tool.
Can we create a new hat in Roblox instead of editing an old one?
Ans- Yes but you need to learn to design from external sources for that.
Do we need premium membership for creating hats in Roblox?
Ans- No, a premium account is not mandatory for creating hats that are already in the toolbox.
Can characters in a game wear hats made by us?
Ans- Yes, you can make your character in a game wear the hat created by you.
Which approach to make hats should the first-time players use?
Ans- It is advised that first-time players should go with the first approach because it's simple and quick.
Can other accessories also be created in Roblox?
Ans- Yes users can also create accessories like shirts, pants, headgear along hats.
Is Roblox studio free for all?
Ans- Only the basic features of Roblox are free for all.
We hope our detailed guide on how to make hats on Roblox helped you!
Also Check: Roblox Shirt Template
Keep following TechZpod.com for more!