If you use Discord frequently, you would know how important the notifications are. Gamers might miss important updates and you might not get messages from your friends on time if the notifications don't work as expected. To solve Discord Notifications Not Working, and we will provide you with various methods to solve it, we must first understand the nature of the problem at hand.
There could be various reasons why you are not receiving notifications on Discord. Your desktop notifications might be turned off, or your discord is set to Do not Disturb mode, your device might have turned off Discord notifications, or simply that your Discord might have a lot of caches which is acting as a barrier to the smooth functioning of the app.
Let's look at the various methods you can use to solve the problem.
This article will cover the following subtopics:
How to fix Discord notifications not working on PC and Android
FAQs
How To Fix Discord Notifications Not Working?
You can fix this error on PC as well as on Android. The steps for fixing this are given below.
Discord Notification not working on PC
The methods to fix Discord notifications not working on PC are given below:
Method 1: Check for desktop notifications
In recent updates or in settings that you might have forgotten about, desktop notifications might have been turned off. This will cause none of your notifications to show up on the desktop. To fix this:
Go to User Settings on discord.                                                                                                             
Now navigate to Notifications and click on it.
Toggle on the Desktop Notifications if it had been turned off.
Method 2: Check Discord Status
Discord has four options for users to keep as their status. They are Online, D Not Disturb, Idle and Invisible. If you keep your status to Do Not Disturb, Discord will stop sending you notifications. To verify if this is not the case:
Open the Discord
Now, go to the bottom-left of the screen and click on your Profile.
You'll be able to see all the options. Select the Online option if it hadn't been selected already.                   
Method 3: Check if Windows notifications are enabled
You might have accidentally toggled off to disable the desktop notifications for Discord in your Windows. To fix this:
Go to the Settings on your PC.
In the search box, type out
Select Notifications and Actions.   
Toggle on the Receive notifications from Apps and Other Senders.
Method 4: Check for Discord Server and Channel notifications
For Server:
Go to the Bell Icon on the right side of the screen and click on it to quickly turn on notifications.
You can also right-click on the Server Settings.
Now choose the Notifications
A new pop-up will open up. Select the Nothing option if it hadn't been selected already.
For Channel Notifications:
Right, Click on the Channel Name.
Navigate to Mute Channel and check if it is enabled or disabled. It should be disabled for you to get your notifications.
Method 5: Update your Discord
Your app might just be outdated and hence, you won't be able to see any notifications. All you have to do now is update the app. To do this:
Right-click on the Discord
Navigate to Run as Administrator and it will get updated automatically.                                         
Method 6: Disable Streamer Mode
When you turn on streamer mode, Discord blocks all notifications and will stop Channel join and Notifications Sound. To disable streamer mode:
Go to the User Settings on Discord.
Navigate to the Streamer Mode
Toggle the Enabled button off if is on.
Method 7: Uninstall and Reinstall Discord</strong>
When you are on the desktop, press Windows+R together to open the Run command.
Type out "CPL" in the search bar and click on Ok.
Now a pop-up will open up. Here, navigate to Discord and check the checkbox next to it.
Once the app is uninstalled, go to the Official Website and download the app again.
If you weren't seeing notifications because of these reasons, now you should be able to.
How to fix Discord notifications not working on Android?
This section will cover the solutions for not receiving notifications on your Android phone.
Method 1: Check Phone Notifications Settings
You might have disabled the notification of the Discord app from your phone settings. To fix this:
Go to Settings on your phone and go to Discord.
Click on App Info and now navigate to Notifications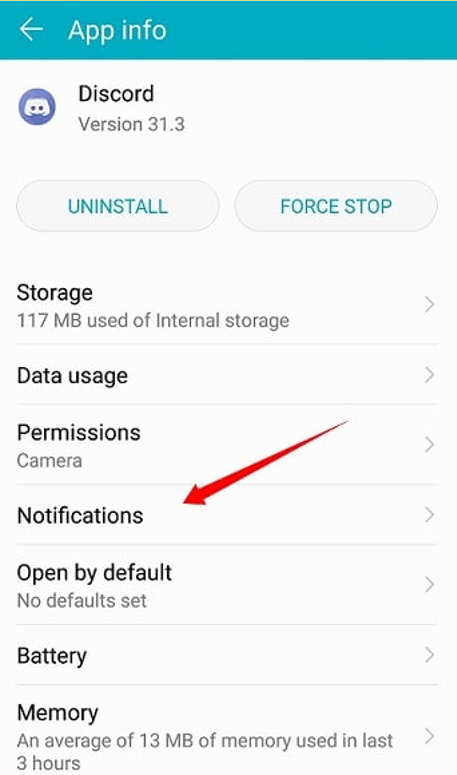 Now toggle on the Allow Notifications option and switch it on. Here you will also find subcategories of various settings, make sure to turn everything on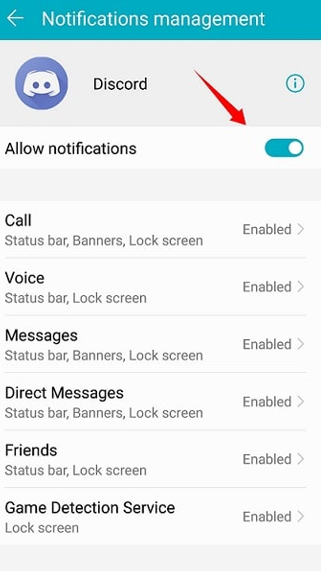 Method 2:  Check Push Notification Settings
Go to the Discord app on your phone.
Now tap on the Discord icon at the bottom.
Navigate to Notifications, located under the App Settings section, and click on it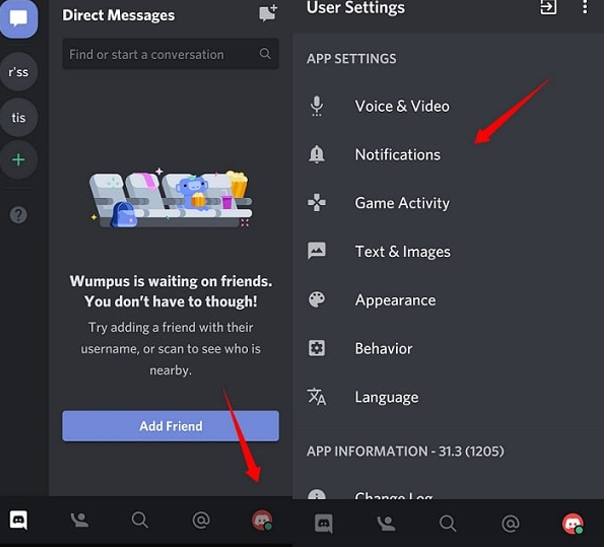 Here you'll see various options like System Notifications, In-App Notifications, etc, and turn it on.
Once, it's done tap on Tweak Notifications Settings and confirm that everything is ON.
Method 3: Clear App Cache
It might be the case that your app has an outdated cache and this might be preventing discord to send notifications. So, to clear the cache:
Go to the Settings of your phone, navigate to Apps and Notifications, and then on Apps.
Now, navigate through the list of installed apps, and tap on Discord.
Click on the Storage option and click on Clear data and then on Clear cache.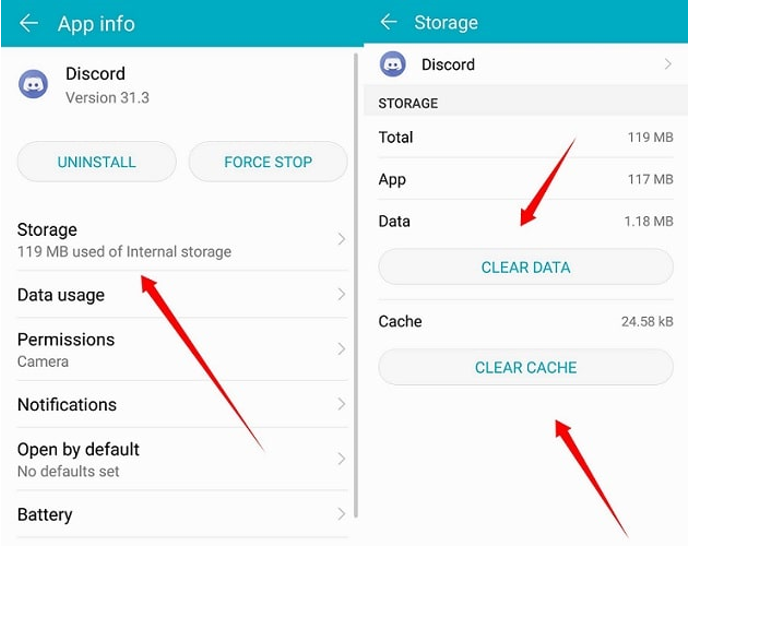 Method 4: Update the App 
Sometimes, using an out-of-date version of this app blocks some of the features. If this is the problem, then the solution is pretty simple. Simply go to your PlayStore and search for Discord. Now update the app and open it.
Method 5: Reinstall App
This old-school method works most of the time. Follow the steps below:
Go to the phone settings and go to Apps -> All apps –> Discord
Now tap on Uninstall. A pop-up will open up to ask for your confirmation. Tap on Yes.
Now, you need to install the Discord app again from the Google play store.
These are some of the ways that will help you fix the notification problem on your device. If you've joined the Beta version of this app, it is advisable to leave this version and then reinstall the app. The developer version often blocks a lot of functions that would normally work on the app. Sometimes it might also just be the notification sound that has been turned off. You can quickly check for that in the settings too.
FAQs
Q1. Why do I don't get notifications from Discord?
Answer: There can be a variety of reasons for this. The notifications might have gotten disabled on your phone or the app. Or the app might be outdated.
Q2. What are the problems of the Streamer Mode?
Answer: Streamer Mode disables notifications from the app since you'll be live streaming the screen.
Q3. Can I customize the notifications that I get on discord?
Answer: Yes, you simply need to go to the channel and go to the notification settings. Here you can choose to get either message or @ notifications.