Roblox Error Code 260 is one of the many errors of Roblox which occurs because its servers are down.
Let us see what Roblox Error Code 260 means.
What is Roblox Error Code 260?
Roblox Error Code 260 happens as a result of Roblox being down. Therefore, it is also known as connection error code. That means that Roblox is under maintenance. It is also possible that the servers of Roblox are facing an issue with your IP address or just that you have an unstable internet connection. This error can occur in all the devices such as computers, laptops, and mobile devices.
When Roblox Error Code 260 occurs, you will see the following message:
There was a problem receiving data, please reconnect (Error Code 260)
This is how it will look: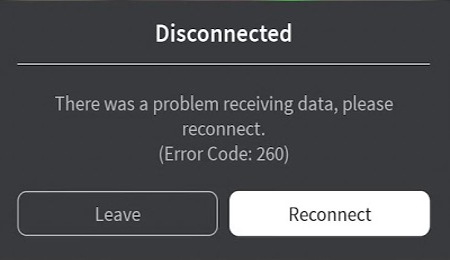 The last time when this error was seen by a massive group of players was on October 6, 2020.
We will explain to you all the reasons why this error takes place and also the solutions to fix it.
Let us first check out the reasons.
More Roblox Errors Fixes:
Why are you seeing Error Code 260 on Roblox?
You should know that Roblox Error Code 260 and Roblox Error Code 262 are very similar.
When Roblox Error Code 262 occurs, will see the message: There was a problem in sending data, please reconnect. This error happens due to servers of Roblox failing to send the network data from your IP Address. You will see a random hour of code in this.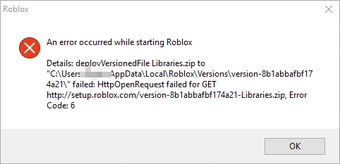 Whereas in Roblox Error Code 260, you will see the message: There was a problem receiving data, please reconnect (Error Code 260). And this error happens due to servers of Roblox failing to receive the packet of data from your PC.
So, they are somehow very similar and are interlocked with each other.
The main reasons for the Error Code 260 are, of course, the servers of Roblox being unavailable or temporarily busy. It can mean that either Roblox is undergoing maintenance or it is having an internet connection problem with your IP address. This means that this problem is arising from Roblox itself.
Other reasons causing the Error Code 260 are:
Improper internet connection: A slow or unstable internet connection is the reason for many errors. It can also be that there are network proxy issues. When the internet connection is not proper, any game on Roblox takes much longer to load leading to this error.
Roblox updates: When Roblox is going to have an update or is fixing any of their games, you will see that when you try to play any game, it is randomly shut down and asks you to reconnect.
Trouble loading games: Sometimes, when Roblox is unable to load games online, you will see this error. The errors you will probably see are Roblox Error Code 262 and Roblox Error Code 279, id=17.
Empty games: Empty games mean the creator of the game left the game empty after creating. It simply means, that there is nothing inside the game.
Other possible reasons: Other possible reasons can be bugs and glitches, login issues, or that your account has been banned, or VPN is turned on, or that Windows Firewall has blocked Roblox Network Port.
Some people think that not having an internet connection leads to this error, but it is not possible because if you don't have an internet connection, you will not be able to open the Roblox Player itself.
Let us now get to the ways to fix the error. Do not worry as we will give you all the apt solutions.
How can you fix the Error Code 260 in Roblox?

So Roblox Error Code 260 is basically a connection error and here are its fixes.
Before you start executing the following ways to fix Roblox Error Code 260, just a reminder that it is better to check that the Roblox app you have been using was downloaded from the right source or that the app has been properly updated.
The various ways through which you can fix the Error Code 260 on Roblox are:
Using Windows Compatibility Troubleshooter:
The Roblox player is made for new Windows such as 7,8,10 and it will not work on older versions of Windows such as XP and Vista.
If you are using an older version of Windows, then follow the below steps:
Step 1: Open the RUN Dialog Box.
Step 2: After that, run the compatibility troubleshooting process to check the potential compatibility issues with your installed apps.
Step 3: Search for ROBLOX in the analytic list and then run the recommended troubleshooting option.
Step 4: To apply these changes, restart your PC.
Turning off Windows Firewall:
If you are a regular user of Roblox, then you must surely know that Windows Firewall causes a lot of errors. Hence, it is always better to turn off your Windows Firewall.
These are the steps you need to follow to turn off Windows Firewall:
Step 1: In the Search box, search for Windows Defender Firewall.
Step 2: You will see the settings on the left side of the panel. Here, you can turn on or off the Windows Firewall.
Step 3: To turn off Windows Defender Firewall for both Public and Private sectors, check to mark the boxes.
Step 4: Then, just click "OK".
Trying Port Forwarding:
As Roblox Error Code 260 is an error in which the servers of Roblox cannot receive a packet of data from your internet. This can be adjusted by adding a Roblox port to the Firewall. The port address of Roblox will do the job of receiving the data.
Follow the below steps for Port Forwarding:
Step 1: In the Windows Search bar, search for Firewall.
Step 2: Select the Windows Defender Firewall with Advanced Security.
Step 3: Click on Outbound Rules to select a new rule for the right panel.
Step 4: Then go for the Port Tab that controls connections of TCP or UDP port.
Step 5: Here, click on Protocol and Ports.
Step 6: Then select UDP and inside the Specific Remote ports box, enter the value 49152-65535.
Step 7: Click on "Next"
Step 8: Then, select "Allow this connection for Domain, Public, and Private".
Step 9: Click on the Finish button.
Disabling VPN Software:
You can avoid many other errors too by disabling VPN such as Roblox Error Code 262, Roblox Error 277, and Roblox Error 279. It is highly recommended that you try disabling your VPN software to use Roblox.
Checking Packet losses:
A slow internet connection can cause the loss of packets. This does not go well with Roblox. A speed test can be performed on any website.
https://www.speedtest.net/ is one of them. You can check your upload and download speed here. It is better to contact your ISP if you face this issue often.
Updating the Default Browser:
Google Chrome is the best-suited browser for using Roblox and playing games on it. It is better that you set Chrome as your default browser and keep this browser always updated.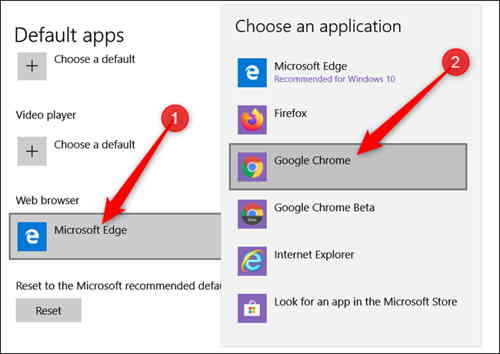 7. Reinstalling ROBLOX:
You can easily uninstall and reinstall the Roblox app. This has been proven to be really effective with errors like this. A fresh app gives you a better experience. But remember to log in using the same old account.
Download Roblox from Here, and re-install it.
Endnote:
Roblox Error Code 260 is an easily fixed error. it might be troublesome but it does not cause much chaos when trying to fix it. By using the above solutions, this error can be fixed in less than two minutes. Also, many players have recognized them as very good fixes.
By using the above ways, you can not only fir this error but also fix other similar errors such as Roblox Error Code 262. We assure you that you will find them very beneficial.