Roblox Error Code 268 You have been kicked due to unexpected client behavior. 
There have been many reported issues with the game Roblox such as changing the username and deleting the Roblox account. One of such issues is getting numerous error codes. Basically, In Roblox Error Code 268 you just get dismissed suddenly from the game, without any warning or notice and you receive a message like "You have been kicked out due to unexpected client behavior. Error Code:268." This is a bit odd, isn't it? Fortunately, we are presenting you with various methods that you can try to fix those bugs.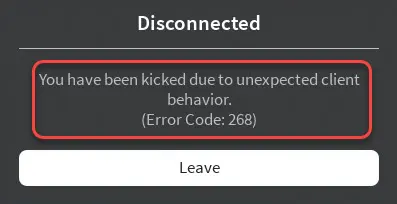 Apparently, there are many reasons behind this Roblox Error Code 268. The examples for this are wrong DNS cache, Antivirus Software Intrusion, etc.
We have listed down six methods below but it isn't necessary for you to actually try all of them. You could just pick any one of them.
Also Check: How to Add Friends on Roblox PC, XBOX & Mobile
More Roblox Errors Fixes:
Fix Roblox Error Code 268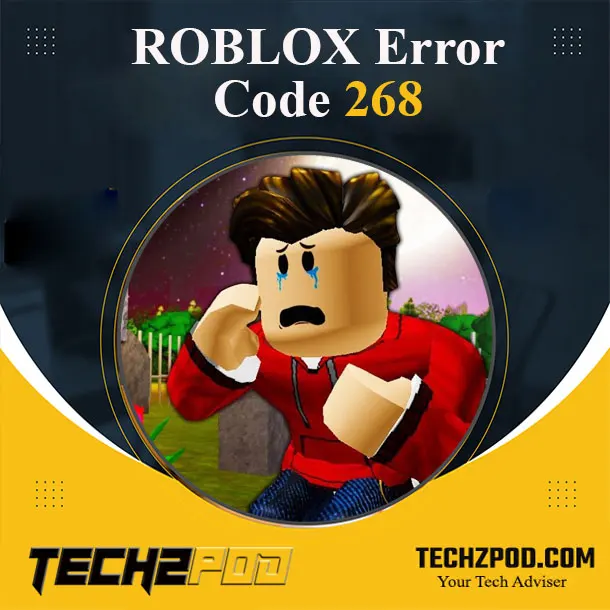 Reinstalling the Roblox application using a web browser.
Usually, error code 268 appears when you are playing with a web browser. You can repair this issue by uninstalling the Roblox app once and after some time, reinstalling it with the browser again. Below are the perfect steps of how to actually do it.
Firstly, press Win+R (Windows logo key and R key) at the same time on your PC. You will be able to see a Run box.
Type "appwiz.cpl" in the Run box and go to OK to open the Programs and Features controller.
Right-click on the Roblox option in the list of programs and click on Uninstall.
Go after the instructions that are visible on the screen to perfectly uninstall Roblox from your PC.
Now reinstall Roblox on your computer. Later, go to the Roblox site and log in to your account. Search for the game you want to play and start playing because then Roblox will be automatically installed and the game will start.
Maybe after this method, you would not face the same situation and get Roblox Error Code 268.
Also Check: How to turn off Safe Chat in Roblox?
Flush and change DNS
Error 268 is usually caused as an incorrect DNS cache comes in unexpectedly. For fixing this issue, you can try flushing and changing the DNS. First, let's see about flushing DNS.
On your keyword, press Win+R to make the Run box appear on your screen.
Type "cmd" in the Run box as soon as it appears on the screen. Now, on your keyboard press Ctrl+Shift+Enter at once to open the Command Prompt as executor.
Later, type in "ipconfig/flushdns" and then press the Enter key on the keyboard. Now, continue typing "netsh winsock reset" and press the Enter key on your keyboard.
Now, follow these steps to change the DNS.
Press "Win+I" (the Windows key and I key) at the same time to make the Settings window appear.
Later, click on the Network and Internet button.
Go to the Ethernet option located on the left pane and go to Network and Sharing Center on the right side.
Click on the Change Adapter Settings on the left side.
Now, right-click on the network you are using at present and select the Properties option.
Double-click on Internet Protocol Version 4 (TCP/IPv4) so that it will open up the Properties tab.
Go to the Use the following DNS server addresses and set the DNS server values as listed below:
Also Check: How to Drop Items in ROBLOX?
Preferred DNS server: 1.0.0.1
It is the free public DNS facility provided by the Cloudflare institution. Now, whenever you face any DNS internet issues, you can alternate your DNS to repair the internet issues.
Click on OK to save the above-mentioned changes
Now, start your computer again and check if you still face the Roblox Error Code 268 issue.
Deactivate your antivirus software
Roblox Error Code 268 also initiates when you have antivirus software installed on your PC. It is remarked as one of the reasons for having the Error code 268 in Roblox. You can try one process wherein you have to temporarily deactivate your antivirus software and check if the error code still continues.
If the error code disappears, most probably your antivirus software is the reason for that. For that, you will have to deactivate the software every time you want to use Roblox if you want to use it without error code 268. Later, you can search for other better antivirus software and install them.
You need to be pretty careful about what sites you use, what files you download because now that your PC does not have antivirus software installed, there might be some severe damage that could be caused in your PC.
Let the Firewall allow Roblox
A firewall is a basic facility provided in all electronic devices that allows unprotected connections and servers to block. This might be one of the reasons to cause error code 268. You can check if your PC's Firewall allows Roblox to work by the following listed process.
Press Win+R on your keyboard. This will be led to open a Run box from which you operate further.
Type "control panel" into the Run box and click OK which will eventually open the Control Panel window.
Change your view settings to Large icons and select the Windows Defender Firewall.
Click on the Allow an app or feature through Windows Defender Firewall located in the left pane.
Go to the Change Settings option.
Search for Roblox from the list. Most probably it would not have been selected so tick to select it which will allow the Public and Private networks.
Click on OK to change the settings.
Now, restart your computer and see if you are still able to get the Roblox Error Code 268.
Also Check: How to Cancel Roblox Premium? Cancel Recurring Membership on Roblox Easily
Uninstalling cheat/exploit software
The Roblox Error Code 268 present in Roblox may appear if you have a cheat or exploit software installed and updated on your computer. In case that is the main reason for it, you need to uninstall any such software and repair any further bugs. You can look for Method 1 to uninstall the software.
Using original Roblox application
The last reason that you are able to still see Roblox Error Code 268 might be because you are using a web browser for it. You can fix this issue by installing Roblox app from the Microsoft Store. As it will be downloaded, just install it and you are good to go without any errors.
Also Check: How to Download Roblox on PS5? Play Roblox on PS5