Why your Business should use Discord?
Slack's sleek messaging platform revolutionized the business instant messaging app space, and now Zoom's cloud conferencing service is doing the same for video conferencing. Businesses are searching for sleeker, more intuitive tools for their workers' everyday teamwork, and these changes evidence connectivity needs.
As developers rush to cash in on this new connectivity boom, this could mean that other communication spaces are in for a significant disruption. Discord is close to Slack or Microsoft Teams, but the home page doesn't reveal that. Discord is marketed to gamers to chat while playing, not as a productivity tool, as shown by the gamepad, question block, and potion. It includes industry-specific resources as well as functionality from which many others will benefit.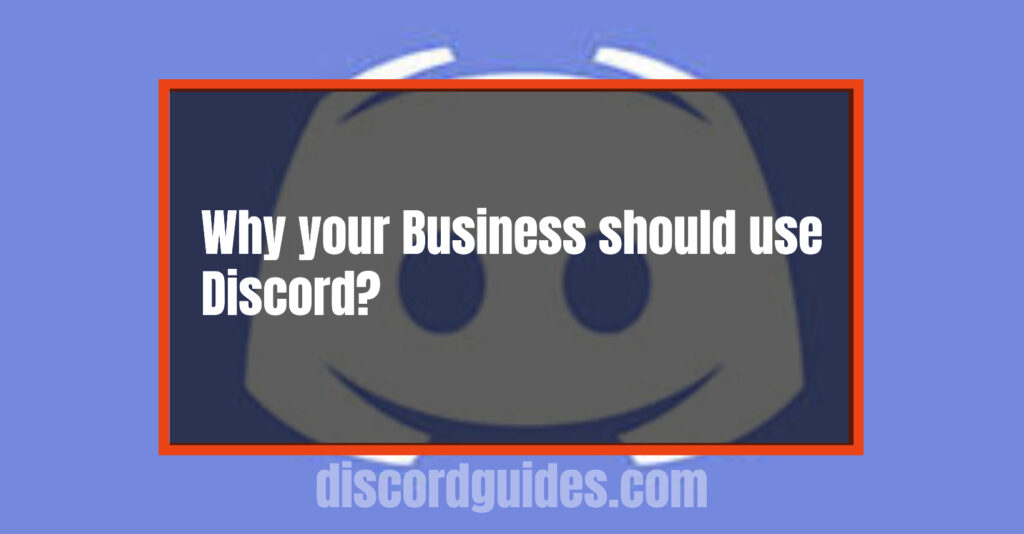 Discord as a whole
Discord is best known for being the most popular messaging app for gamers, developers, and streamers. Users can set up private servers, similar to a business Slack workspace. Users can build dedicated VoIP or text-based communication channels on these servers, and they can enter several servers with just one account. Direct messaging via email, VoIP, or video is also possible with Discord.
It's available as a downloadable desktop app, a web app, and a smartphone app, unprecedented in the VoIP-for-gamers market. The interface is simple, sensitive, and highly user-friendly. It's compatible with Mac, PC, iPhone, and Android.
What makes Discord a must for your business?
Why should a business team begin using a gaming platform? Is Discord poised to trigger a long-overdue shakeup in the corporate VoIP space? Is Discord a viable alternative to Slack? We have quite a lot of unanswered questions.
Despite its origins as a gaming tool, Discord has been adopted by a slew of other online communities, serving the same function that online forums once did. Dedicated Discord servers are available for participants of several subreddits, friend groups, and even organizations. Users who want to talk about everything from economics to KPop will join Discord servers.
The following are the characteristics of Discord that enable it to enter the business world:
Easy Set-Up
Getting started with Discord is pretty straightforward. You can sign up for an account, create a new server, invite your team members, and begin conversing in a matter of minutes. Every Discord server has multiple text and audio channels, allowing you to organize your conversations by team or project.
You may also send direct messages to other people (DMs). This is essentially a chat application. If you've used other chat apps before, everything should be natural.
IP and DDoS Protection
For any VoIP service, security is a concern. The client-server architecture of Discord protects users from DDoS attacks by keeping IP information protected. An IP location lock is also included in the app, alerting users when a login attempt is made from an unexpected IP address. Discord also offers two-factor authentication, which adds a layer of protection.
Free
For free, you can create a Discord account, create a server, and invite others to join using a Discord invite connection. Text, audio, and video chat, and screen sharing are all available for free. The paid Discord Nitro service is only needed if you want to increase your server's video and live stream capacities as well as its upload limit. Even so, Discord Nitro is just $9.99 a month or $99.99 per year.
Discord's free edition is essentially the complete version. Slack, on the other hand, heavily restricts non-paying customers' access to message archives. Although only a few of these features are directly business-oriented, they demonstrate that Discord is open to tiered participation, versioning, and tailoring to the user's advantage.
This may point to the existence of a paid business edition that businesses could subscribe to on a monthly or annual basis.
Text-based and VoIP Channels
Within Discord servers, VoIP and text channels are kept separate, while users can use both simultaneously. During an audio call, users can be involved in both a VoIP and a text channel simultaneously, allowing for multiple conversations or content sharing. Users can share files as large as 8 MB in size, and the server imposes no upper limit regarding how much content can be shared.
The voice channels also include a push-to-talk feature, which is unusually hard to come by in other VoIP items. Users can also silence SMS channel operation alerts. Each of these attributes has the potential to be extremely valuable within a company. Internal networking features similar to Slack are available in Discord, including one-to-one messaging, text-based group chats, and content sharing.
Discord, on the other hand, includes VoIP-based networks, which Slack does not. Discord recently added video chat and screen sharing capabilities in addition to its file-sharing features within text chats.
Size of the server
Since servers can host many users, Discord has grown in popularity as an alternative to conventional online forums. As long as users are granted access, servers may appear to have an infinite number of users. As many as 250,000 members and 25,000 simultaneous online members can be assisted by servers, which is more than enough for most business groups.
Technically, Discord has a cap on the number of people in a single talk, but it's ridiculously large. A single server can host an entire organization if necessary. Servers will also help up to 500 different platforms, allowing you to organize conversations into hundreds of different categories.
Permissions
Entering a voice chat with hundreds of people can be intimidating at first. Discord's extensive permissions controls can alleviate those concerns thanks to Discord's extensive permissions controls. Members of text and audio channels may be muted indefinitely or for a limited time by server owners and moderators.
This will allow conference call hosts to ensure that meetings with hundreds of other people run smoothly without having to worry about users unintentionally unmuting themselves. Similarly, Discord has a priority speaker feature for audio channels, enabling one person's audio to be stronger than the rest. When a supervisor has to lead an audio call in a business setting, this may be particularly useful.
Discord bots make it convenient for your business to operate
Though Discord lacks some functionality that users need, bots will fill in the gaps. They are an excellent way to add some fun to your workday or to moderate your server. Various bots that perform different functions can be incorporated into servers to moderate content and interaction, ensuring that discussions remain on track and that employees do not share spam or external links.
Pokecord, a bot that simulates a Pokemon game while users are in the app, and Medal, a bot that can capture highlights from video games, are two popular bots. Although Discord hasn't explicitly advertised itself for business use, other popular business software has produced Discord bots.
The Trello Discord bot, for example, allows users to control their Trello boards directly from inside the platform. Although there aren't many business-oriented bots available, the fact that there are a few shows that businesses see Discord as a medium with potential.
A few downsides of the platform
All of these features make Discord a very appealing choice for companies, especially those that are just starting and need a low-cost internal communication tool. Software, on the other hand, does exist in a bubble. The concept must be explored, and there are a few things you should know before implementing Discord in your company.
In the free edition of Discord, file uploads are limited to 8 MB.
The UI isn't as polished as places like Slack or Zoom.
The branding and documentation are heavily focused on gaming.
Rather than being limited to your company's server, direct messages are available to anyone on Discord.
Discord has a higher rate of downtime than other chat applications.
Per-server, there are only 250 standard and animated custom emoji.
An arbitration provision is included in terms of Service.
Since Discord is classified as gaming software, it may be blocked by corporate firewalls.
Conclusion
Discord has a slew of innovative features that game creators, publishers, journalists, athletes, and group and event organizers can find invaluable. If we add a sense of optimism, Discord might likely be beneficial to the business. Ultimately, consider whether Discord is a good match for your team meetings, training sessions, student classrooms, or networking activities. If that's the case, it'd be a good use of time to give it a shot.