Record Discord Audio: Discord is popular among those people who like to chat while playing games or like live streaming. People can share their screen and audio and send text messages. A new trend of recording the voice or audio on Discord has become quite common. However, it must be informed that the Discord app does not provide the feature of recording audio. How are other people doing it then? 
Recording audio is only possible through the help of third-party applications. Discord's developers have not yet launched the feature of audio recording. This feature might be available soon as a new trend of voice recording has been noticed. Until the new update comes to the market, you can follow the methods outlined below to record audio on Discord.
A few things to know before recording audio calls on Discord 
Before you learn how to record calls on Discord, you should know the legal position involved with it. The laws of many countries prohibit recording calls of people without their permission. You need to make sure whether call recording is permitted in your country or not. Just to be sure, inform the other person and take their permission before you start recording their call.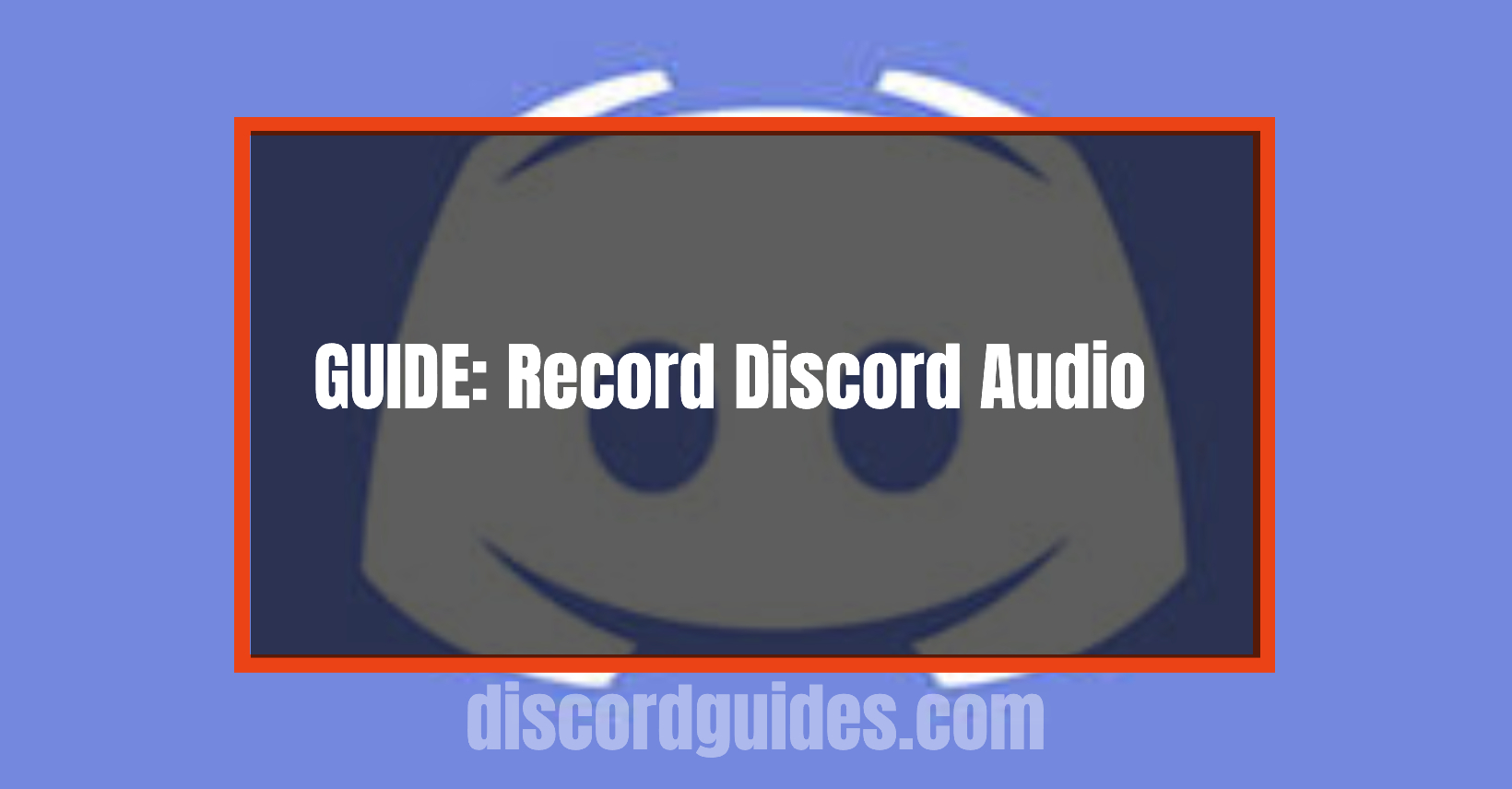 The in-app features of Discord available right now do not provide the facility of recording audio or calls. But worry not as calls can still be recorded. If you want to record somebody's call on Discord, you need to download an app and it will record the call for you. The app that you have to download will depend upon the device on which you are using Discord.
For Windows, you need to download and install Audacity; for Mac, OBS is suggested, and for recording audio on iPhones or Android you need to have the Craig App. 
Record Discord Audio on Windows with Audacity 
You need to make sure that your audio and microphone settings are configured otherwise, you won't be able to manage voice chat and audio recording on Discord. There are many apps available for audio recording. It is suggested that you download Audacity for Windows. Regardless, the application works with Mac, Linux, and other operating systems as well. Audacity is available to the users free of cost and it can convert your audio files in any format that you want: Mp3, MP4, MKV, etc. 
Audacity is basically used for the configuration of audio. It can record as well as edit the audio files. You can use it to balance your tunes or other vocals in the audio files. To record your audio on Discord on Windows OS, follow these steps:
Download the Audacity application and install it on your computer.

Open the home page and select the option of 'Edit Preference'. Select the name of the device and set your recording device as Microphone.
Now, you need to open Discord and connect the audio channel. Press the Green Key when you are on call and the recording will start.
Once the call is over and you end the recording, press the red button.
Select the option of 'File' and click on 'Export' to save the audio recorded file.
Note: Audacity records high-quality audio files but the main drawback is that it can only record the audio of one device at a time.
Record Discord audio on Mac with OBS 
Open Broadcaster Software or OBS to record Discord's audio on Mac. The main advantage is that it can record audio on more than one device, unlike Audacity. This app is available for Windows, Linux, and Mac, however, one drawback is that it can be a little difficult to operate for beginners. There's no need to worry, read further to understand better:
First of all, you need to download OBS. Once the installation is complete, click "Sources" and then "+"

Click on Display Capture from the list that appears in the drop-down menu.

Now, click on "File" then "Settings" and "Output" for configuration of your recording files.
Click on "Ok" to save all these settings.
Click on "Start Recording" to record the audio of your computer.
Note: Audio of the Desktop and Display screen and the microphone will be recorded. But the files are saved in video format. These can be easily converted into MP3, MP4 by using any other converter.
Record Discord audio on iPhone or Android with Craig
Craig is a bot that can track and record Discord audio files or that of your smartphone. It can even identify and record a separate file for each speaker. This makes it very easy to remove the recordings of several speakers.
To use Craig, first of all, you will have to invite the Bot to the Discord server. You can do this by visiting the official home page of Craig. Click on 'Invite Craig to your Discord Server'.

Login to your Discord and give permission to Craig so that it can join your Discord Server. You need to visit the authorization page for that.

Type, "Craig:, join" and the audio recording of that server will start. To stop the recording you need to type, "Craig:, leave".

You will receive a message from the Bot of your recorded audio file.

You then need to open that link and choose the format in which you want to save the file on your phone.
Note: This Bot can record audio files for up to six hours. It can even store your audio files for 7 days. This software can be used on Desktops as well. Download the audio files on your computer in WMV format and upload them on YouTube after editing them.
FAQs
Q: How do I record conversations on Discord?
If you want to record a conversation on Discord, you need to click on the option of recording audio/video calls. When the call has started, there will appear an option to record the voice or video call. Once the call ends, the recorded call will be posted in the group or channel or if you wish, you can directly download it on your system.
Q: How do I record the voice chat of Discord on iPhone?
The voice calls on iPhones can be recorded very easily. You will need to take the help of a third-party app i.e. Craig. You can read the details that are mentioned in this article to properly record any call on your iPhone. 
Q: Are the calls on Discord encrypted?
The Discord app mentions that the conversations that are sent through the app are end-to-end encrypted. It can be said that there is some truth in this statement as the messages are sent through https connection. However, being encrypted does not mean that the other user will not be able to view your message. Once the message is received on his Discord server, it will be decrypted and the receiver will view the message.
Q: Can Discord voice calls be recorded?
Right now, Discord does not provide a recording audio feature.  On the contrary, it is said that the conversations are encrypted. However, with the help of third-party applications, users can record the conversations and download them on their devices.
Recently a new trend of recording audio has become very popular. This feature is currently unavailable on the Discord application not available in-app. People are recording the audio of Discord with the help of third-party applications. This is a very easy process and in case you want to know how to record the audio of your discord app, simply follow the steps mentioned above.