Best Discord Server Bot: Discord is currently the best platform to chat for the gaming community; it has more than 150 million active users worldwide. Discord has been accepted worldwide because of its robust and customizable nature. It enables users to create their server and make a community of like-minded people and enjoy.
Most of the text and voice conversations of Discord take place within servers. Servers that operate as individual hubs are divided into two parts: Text Channels and Voice Channels.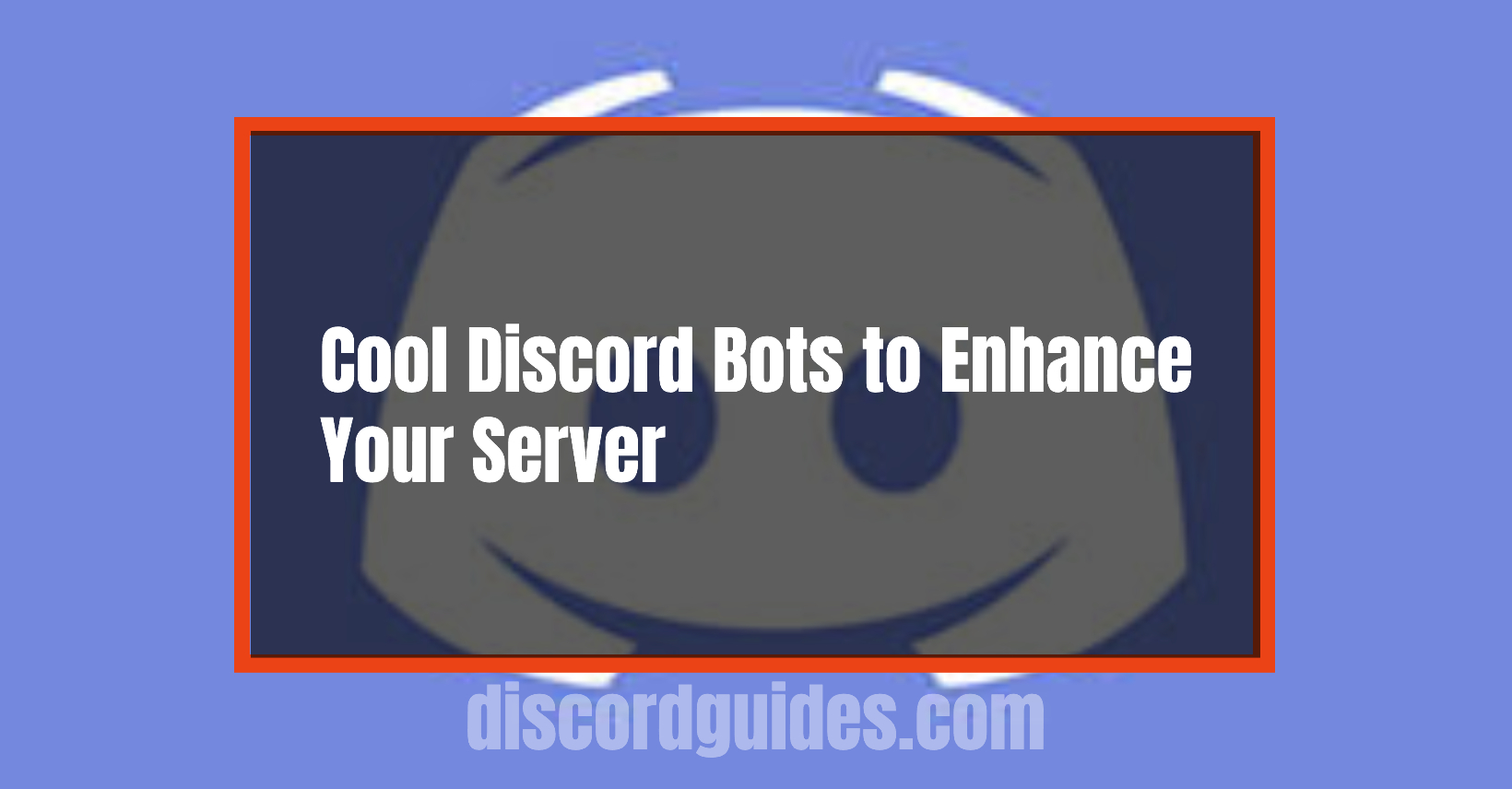 Think of any server you join as a big tree – each text channel inside the server represents another room inside your treehouse that you can chat with your friends or co-workers.
The Discord user interface allows the user to create multiple servers, send direct messages, add friends, send friend requests, etc.; dual permitted authentication to protect your server with an extra layer of security.
Depending on the Discord Server limit, it does not accept a single user to be on more than 100 servers. Sometimes it allows 75+ users, as its servers have no members limit.
As Discord is very customizable, users can add bots to enhance the functionality of the server. There are many bots available on the net which perform different functions on the user's server. We have curated a list of Bots that are best right now and enhance the functionality of the server to the next level.
Check out Top 10 Best Discord Bot for Discord Server
Best & Useful Discord Server Bots to Enhance your Discord Server
Following is the list of 22 Discord Bots that are efficient and very useful in maintaining the Discord server:
Tatsumaki
Dank Memer
GAwesome Bot
MEE6
Sesh
Dyno bot
Mudae
Trivia Bot
TachoShack
Typical Bot
YAGPDB
GameStats
Rythm
EPIC RPG
Karuta
Arcane
PokeMeow
FredBoat
Discord Translator
Octave
Miki
Discord Dungeon
Tatsumaki
Tatsumaki is a very capable bot; it helps you moderate loads of comments, send invite messages to new members. Pop-up notifications are also sent by this app. Tatsumaki can be customized as per your requirement and will work as you wish. Tatsumaki is one of the most used bots because of its Incentive XP system. This system gives XP to those who stay active, and this makes more and more users remain engaged.
Dank Memer
Dank Memer is a bot which offers its assistance for making memes. This bot helps you make memes easily, manipulate images, and also uses specialized meme commands, gambling, and many other purposes. Dank Memer also offers a moderation system where you can ban or mute unruly users from the server. If you are a meme lover, then this bot is a must for your server.
GAwesome Bot
If you want to add a multi-functional robot to the Discord server, GAwesome is a perfect choice. This is a powerful and customizable bot that is not only very suitable for hosting chats but also has many excellent features to help you expand your user base. It helps enhance various activities on the server as well. You can kick, ban or promote membership, but it can also be used for polls, pranks, dank memes, and more.
However, the feature of this bot is that it has a powerful expansion system. Therefore, you can ask the GAwesome bot to display results from Google, Wikipedia, YouTube, and even Reddit. You can even choose to organize your RSS feed in the chat…
MEE6
MEE6 is one of the most used and favorite bots on Discord. Almost every server owner uses MEE6 due to its extensive features, which make server management a lot efficient and more accessible. MEE6 helps you automatically give or remove roles, send messages in different channels, send Welcome messages, create a leveling system, and much more. MEE6 has lots of moderation features that automatically detect spammers, bullies, and other such users who disturb the positive environment of the server.
MEE6 sends warnings, bans users, or removes nefarious users to maintain a good atmosphere in the servers. This bot will indeed reduce any server owner's work to a great extent as it can be used for multiple tasks. This is a must-bot on the Discord server because the server owner can simply leave the entire server to MEE6, and nothing will go wrong,
SESH
After conducting a deep analysis on Discord, you will notice that this application does not have any built-in scheduling or calendar management features. In this case, you can use the best calendar bot for Discord, Sesh. This is a unique robot for calendar management, schedule, remind, create events, etc. You can easily create events without a specific format because there is no strict format to follow. Create tasks and speak the time in the most convenient and natural language.
Gamers should have this bot installed on their Discord server as it will show the exact time to connect with other gamers living in different time zones. This bot converts and informs you of the time in the local time zone for ease of understanding. Moreover, this bot has support for conducting polls to pick out the best time, countdown, and timer. This bot can be integrated with Google calendar to make it super easy to remember. You can use this bot to help remind you of any gaming streams you need to record or even notify your users to come to check you out while you stream.
Dyno BOT
Dyno is most likely the first bot you installed on it to update its functionality if you have a new Discord server. It is a multi-functional bot, and its functions can be fully controlled through a special panel, including the use of mod logs, timeouts, and the prohibition of automatic audits. It has also been updated to detect numerous mentions or spam attacks in your community chat.
Dyno is also helpful in providing personalized announcements, especially when someone joins, leaves, or is banned by the server. You can assign roles to users and publish AFK status on their behalf. However, what people prefer and like about this bot is that it has Cleverbot integration, which can be used to publish "Overwatch" statistics, Google search results, and most importantly, it can stream YouTube music.
Mudae
Mudae is another great Discord robot you should definitely add to your server, especially if you are an anime fan or an avid gamer who loves game characters. Mudae is a Discord robot full of animations and playable characters. You can use it to customize your profile. And fight against other similar surfaces. Mudae incorporates characters exceeding 35000. These are quite huge in number compared to other bots. These characters include Waifu and Naruto. They incorporate more than ten thousand GIFs from the anime community as well.
Users can further participate in multiplayer games on the server, such as Waifu Arena, Pokémon, and other word games. In addition, there is a unique option to automatically generate animation quotes that can be set on multiple servers. Aside from anime-related stuff, this bot also allows some moderations similar to Dank Memer, but the moderation is limited and can't be totally relied on.
Trivia Bot
As the name explains, this is a bot that entertains users while measuring their knowledge. This bot has over 3000 trivia questions from 30+ categories which can be fun to play with lots of users. This bot is straightforward to use and works with just three commands:
Trivia start: To start the trivia questions
Trivia Categories: To select a category of questions
Trivia help: To know about the functions of the bot
This is a fun bot and can attract users and build a healthy atmosphere on the server.
Tacho Shack
Tacho Shack is another commercial adventure game in which you have to sell tacos to make more money. The game looks like this: You buy upgrades to improve the cabin to lure in numerous customers. It is quite obvious now that the more customers you will have, more money you will earn. You can use the proceeds for advertising, decorating the cottage, and making it more attractive to customers, and so on.
Basically, you need to spend your resources so that you can upgrade your taco shed while earning extra cash. You can also participate in other activities to boost your cabin. If you like cheap Discord robots, then you will like Tacho Shack.
Typical Bot
As the developer himself said, Typical Bot is a fun bot, actually very powerful and easy to use. If you add the Typical Bot to your server, you will be provided with necessary tools which are required to block moderately, kicks, or advertise, and one of them is even on the server. Typical Bot further provides users with numerous exciting features and mini-games, as well as music that can be streamed via YouTube. This does not mean that anyone can play music on the server. You can fully control your permissions. In other words, as the manager DJ, you can also queue up or skip songs. It can bring you photos of cats or dogs, random jokes, and essential information such as Server ID, Channel ID, etc.
YAGPDB
The name may seem weird, it may sound like a password or a code, but this bot is very interesting. This is an upgraded version of the MEE6 bot. The same developers develop both MEE6 and YAGPDB. However, YAGPDB comes with some extra features which were missing in MEE6. This bot manages the server quite efficiently and performs similarly to the MEE6. Moderation of the server can be done quickly by installing this bot onto your server and continuously checking on it.
GameStats
The name of this bot says it all; this bot will be helpful to you if you are a gamer and have a gaming Discord server. This bot will simply display your stats related to gaming and also share them with others. GameStats lets the Discord community view their gaming stats for numerous games. A few of these well-known games include World of Worships, Paragon and Players Unknown BattleGround. With GameStats you can see where you go wrong and on what things you need to put more effort into.
GameStats is a bit different when compared to other bots for Discord users. It is a bit complicated to use at the start. There is no need to hesitate if at first you can't understand this bot. Take your time with it and you will be able to see what enormous difference it makes to your server. If you want to check what this bot supports all accounts, then type in .gs accounts; that's it. Once you get used to this bot, it becomes very easy to operate and command the bot without any worries.
Rythm
If you have always wanted a music-related robot, Rythm is one of the best Discord bots that can be added to your server. It is completely stable and currently serves more than 6 million Discord servers. Rhythm enables users to enjoy topnotch music with their Discord server. Rythm takes music from various sources like YouTube, SoundCloud, and Twitch. Although Spotify is not supported by default, you can manually configure the bot to support Spotify, but some workarounds are needed.
In other words, the best thing about Rythm is that it does not cause various music delays, which is a big problem for other music bots on Discord. Not to mention the fact that music is obtained without compromising the quality of the music. In addition, it also supports lyrics and automatic playback, as well as many prefix commands for controlling music playback.
EPIC RPG
Epic RPG is presently one of the most pleasant Discord bots that permits you to play text-primarily based RPG sport and degree totally up in a great battle. The spotlight of this sport isn't simply RPG; however, you may additionally earn and promote armors and guns to server members. It has more than 15 dungeons in which you need to beat the dungeon bosses to free up new instructions and features. As you defeat each dungeon boss, the next one gets more challenging and takes up much more of your time to complete the quest.
If you are new to this game, just type "rpg start" and the server will provide you with various commands and rules. You can view your profile, list, and completed tasks just like in an interactive game. It also supports hunting and adventure activities that many people are sure to look for. So try to play this excellent game on Discord using Epic RPG whenever you want.
Karuta
Karuta is another anime bot on Discord having similar functions to Mudae. This bot has more than 70,000 anime characters, and if you love Mudae, this will surely be a great bot to use for your server. You can also trade your cards and earn money from this bot. Karuta acquired its fame due to its expanding economy. With this bot, users are able to use cards on numerous Discord servers. Although it isn't as popular as Mudae, it doesn't fall behind when it comes to the features and services that it provides.
Arcane
Arcane is a positioning robot that allows you to set up a contributor role on the Discord server to reach a higher level. This bot also incorporates numerous cool features, including reaction characters, notifications of new videos on YouTube, and review controls. You can also use Arcane's registration tool to track when anyone joins and leaves the server. In case you are in search for some powerful robot which equips all the functions needed to manage the server effectively, you should consider Arcane. You can also get other features through Arcane Premium, such as a customized experience, advanced login, unlimited response, and character improvements. Arcane can act as an alternative to MEE6. Although it isn't as popular, it works reasonably well when compared to any other positioning robot.
Pokemeow
After Pokecord, PokeMeow moved to the top of Discord's "Best bots" list. As you would expect in a game based on Pokémon Catcher, this is very addictive. You can play this game with friends and show off your charm and other rewards. Part of the reason for PokeMeow is that it has various Pokémon rarities, which you can't find anywhere else.
You can also earn PokeCoins based on Pokémon and use them for Pokeballs, Ultraballs, and Masterballs. There are also some time-limited missions that require you to find Pokémon in less than two hours. Then you can collect loot, balls, and other valuable items. As mentioned before, this is addictive, and one of the best ideas for Discord servers to add this bot as well if they want to gain more users in the future.
FredBoat
FredBoat has been made by getting inspiration from the quote, "Master of one stroke is better than a jack of all trades." All the bots mentioned above can be used for many functions, but this bot has only one function, i.e., playing songs, and that's all. This bot can play music from YouTube, Spotify, Sound Cloud, Bandcamp, Twitch, and many more. This bot has the sole responsibility of playing music and nothing else. This is the best bot to play music, and it is indeed a master of one stroke.
The best feature of FredBoat is its search function. Therefore, you only need to search for the name of the song you want to play, and FredBoat will find it for you, provide you with five different options, and then choose the version you want. If you want to create a good vibe full of virtual ambiance, then this bot will do magic for you.
Discord Translator
The name is enough to describe the function of the bot. To prevent a language barrier from stopping communication with one another, Discord Translator helps people with that. Discord is a global platform; people from different countries and different natives come and create a community, so language should not be a barrier.
This bot is so well designed that it directly translates the sender's message into the receiver's language. The user needs to type in his language, and that's all. The rest will be taken care of by this bot.
With the help of a simple command, the user can ask the bot to translate his/her message into multiple languages automatically, and it all happens within seconds, which is just amazing. Discord Translator is of utmost importance in case your server includes users from across the globe; people who share different nationalities.
Octave
Octave is a Discord music bot similar to FredBoat that you can use to listen to music with your community. With Octave, users can play songs, playlists and view the lyrics of the songs. With Octave, users can enjoy numerous playback options. These include letting the users vote on whether the currently playing song should be skipped or not. Octave can be treated as an alternative to FredBoat, but Octave misses out on some music features which FredBoat has.
Octave has a paid version that is called Octave premium which enables the bot to offer premium assistance and provide features like 12-hour track length, 24/7 playback, and offers access to volume, filters, and bass boost. Basically, the premium version has all that a Discord server needs to make it lively and happening. That is the plus and negative point of this bot because some people prefer to use free rather than playing features, while others like the features provided in the premium version.
Miki
Are you looking for a powerful and interesting Discord bot? If so, then you should check out Miki. In terms of opportunities, Miki is second to none. Miki enables users to gain control over the server. You can manage the server and provide incentives. Create hierarchical roles for participants in the form of role rewards to encourage active competition, etc. Miki also provides a large number of review tools; you can use these tools to clean up the chat and delete the problematic people.
The best feature of the Miki bot is its leadership structure. Did you know that as a member, you can get points? With Miki, users can get tons of experience points. This is based on what messages they send, how active they are and how much daily bonus they can collect.
This bot further enables users to gamble with the points they earn. Users can play games by placing their experience points at stake. If they win, they get more experience points, and if they lose, they lose their experience points.
Discord Dungeons
Do you want to introduce exciting RPG games to your server? Then you came to the right place called Discord Dungeons. This bot allows you to bring your own RPG adventure to the Discord server. Since the game is powered by Discord, you can play it in the browser using a desktop application or even the Discord application of a mobile device.
Although Discord Dungeons is designed to be played in single-player mode, you can also share with friends.
These were the most popular and best Discord bots. If you install these bots on your server, then your server will surely be an excellent place for your user. These bots help you to engage more with fewer efforts and make the community grow faster and broader. It is best when members of the server appreciate the organization of the server, and with these bots, it is sure that users will enjoy it.
Frequently Asked Questions
What is the legal age to join the Discord community?
According to Discord's Terms and Conditions, people over the age of 13 can join Discord and enjoy it. Whereas children under the age of 13 can't join Discord, and it is an illegal act if someone does so.
Is using bots illegal?
Yes, using bots is illegal as Discord hasn't made a bot or approved some third party's bots. So, any bot on Discord is unlawful, and any bot claiming to be legal shouldn't be used as it can be a risk to your privacy.
Can one bot oppose another bot?
No bots are designed in such a way that they stop or oppose another bot's commands. All bots work in their own space and don't intervene with others which is why servers can keep numerous bots with different features.
Why are all Discord bots offline?
A proper functional bot will never be offline. If a bot is offline, then there may be a problem in installing the bot, or you have not run the bot on your server.
Should bots be installed on servers?
Well, it isn't compulsory to install bots on the server but not installing bots is a wrong decision. As you read the functions of bots, they help you to keep your server organized. Bots help in growing your server, and once you have more members, you need bots to manage the server as it becomes too difficult to maintain the server manually. There is no need for you to pay to use any bot as most of them are free of cost and can quickly be brought into your server using different websites.