Fix Discord Screen Share No Audio: Discord is an app that is being used by many people worldwide. Any person will talk about the wonderful features offered by it. You can chat with your friends by sending text messages or voice messages. In case you love playing games and you do not have enough time to talk to your friends then this app also provides the option of chatting with your friends while playing games. This is possible through the translucent screen. Speaking about playing games, if you wish to share your screen with other players or simply share your game video online, this app will let you do that too with the help of a screen sharing on smartphone feature.
This screen sharing is a relatively new feature and still has some new bugs. Sometimes the discord overlay causes audio problems. If you are going through the same situation read further to know more.
Check out our list of Best Most Funny Discord (TTS) Funny Text to Speech Songs & Messages
What Causes Discord Screen Share No Audio issue?
Recently, Discord Screen Share with audio has become very popular with the customers. Despite its popularity, this feature comes with bugs of its own. One very common problem that users of Discord face are no audio while sharing the screen. Many factors might cause the problem with the auditory feature of your Discord. It could be caused due to a problem with your computer, the application, antivirus, or even compatibility issues with your audio output source. Depending upon each reason; there are different methods to fix this problem.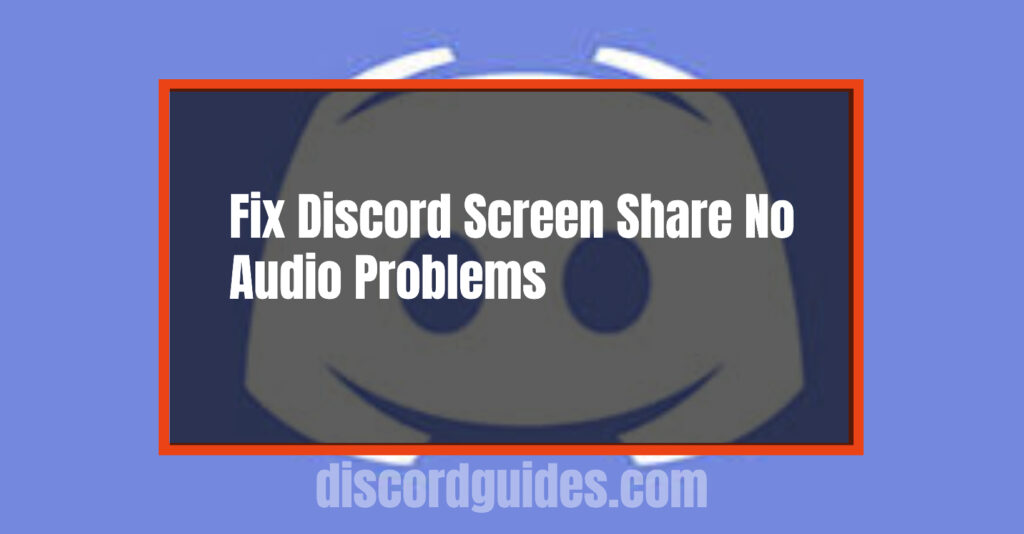 In case you use Discord and are facing the same problem, then read further to know the causes and solution for the issue.
Audio Problem due to older version
Every recent update on any app comes with its own set of problems. Once the users report these problems, the creators start working on resolving them. This was the issue with the new feature of Discord i.e. screen share. It was soon worked upon and a new update was released. So if you are facing any problem with your audio while sharing the screen, chances are you might be using an outdated version.
Problem in Audio Drive
In case you have some problem with your Discord legacy audio then there might be an issue with sound while using the Discord screen share feature. Any software that you use requires the proper functioning of your device Drives. The same is the requirement with Discord as well. If the auditory drive of your computer has some issues then there is a chance that you will face a problem with the audio while sharing the screen of Discord.
Administrative Permission
The screen share features require access to the full screen of your computer. In case you have not granted administrative access to discord then there will be auditory problems with the app while sharing the screen. Once you have permitted discord to use the feature then there will no longer be a problem with screen share audio.
Uncomplimentary Applications
Certain apps do not compliment Discord. In case you have downloaded or are working with such an app then there might be an issue with your Discord. You will have to look for other options instead of using these apps. There are many wonderful applications available but some of them cannot be used along with Discord. The only option is to uninstall those apps and look for alternatives to fix the audio problem of Discord.
No Route for Discord Audio
Sometimes the reason behind no voice in discord screen share is the faulty settings of your application. There might be no output for your audio of discord and hence you won't be able to hear anything. If this is the situation check and make sure that the output route is set properly to hear while screen sharing on Discord.
Stream Incompatibility
People who contribute occasionally to YouTube might have faced the audio problem while screen sharing. The reason behind this is that Discord is not compatible with YouTube streaming. If you still want to share your Discord gaming activities on YouTube then you will have to look for some alternative options for screen sharing as Discord will have issues with the audio.
Antivirus Problems
If you have installed a new antivirus software on your computer and you use discord on chrome or browser instead of the app then you might have come across the issue of audio while screen sharing. Antiviruses do not let Discord perform well. If you want to resolve this issue then all you have to do is simply disable discord in your antivirus software.
Fixes for most common Discord errors:
Screen Share and Audio Share on Discord
Discord is a wonderful app that provides various interesting functions such as screen sharing and audio sharing. When this new update became available, it made a lot of things better for the users. They were provided with the opportunity of sharing their screen's video or audio. These features are very easy to operate and in case you are wondering how to resolve your screen's video or audio problems then read further.
Learn How to Add Music Bot in Discord, a detailed step by step guide.
Fix Discord Screen Share and Audio Issue
The screen sharing and audio sharing of discord is a relatively new feature. Since they are new, therefore they come with their own set of problems. Once you start using the screen share feature, you might come across some new bugs. You might not be able to hear anything. If you want to know how to solve these problems then follow the steps mentioned here.
Restart your Computer
Whenever you come across a problem on any device then the first advice to solve the issue would be to turn it off and then turn it on again. In case your discord app is not functioning properly, you cannot hear the audio, or have a problem while screen sharing then you should try to restart that personal computer. Chances are that your issue will be solved with this step. Sometimes other applications are running in the background and they might create problems with your discord features. Once you have shut down your PC or restarted it after closing the app then your problem of audio and screen share might not occur again. After the reboot is complete, restart your computer to check whether the problem is solved or not. If not, you should follow these other steps.
Update the Discord App
When the feature of audio and screen share was first launched, it came with its own sets of problems and bugs. The developers have since then launched several new updates to solve the common issues people were facing. If there is a problem with your audio or screen share then you might be using the older version of the app and you should perhaps update it to solve the issue. To update the discord app follow these steps:
You need to press the 'R' and '+' key simultaneously to launch the Run dialogue box.
Once it is opened you need to type %localappdata%
After pressing enter, click twice on Discord and update .exe. (or Better Discord)
Once the update is done you need to re-launch the app.
Grant Administrative Access
If the problem still persists then you need to make sure that you have granted access to this app. Sometimes issues might arise due to many apps running in the background. If the discord app is not running smoothly then chances are that you might be facing problems due to too many resources. Follow these steps to resolve your problem:
Press Windows key and 'E' simultaneously.
The file explorer will be launched.
Once you see where the Discord app is located, click on it.
When you right-click on discord.exe, choose the option, 'Run as Administrator'
Save changes by clicking on OK.
Avoid Full Windowed Screen
If you play games on a full-screen version while simultaneously using the discord app then a lot of problems can arise. Screen-sharing might not be able to be done and your voice will also not be heard clearly. If this is the error then it could be because you are running two incompatible features together. Playing games in full screen and discord app do not run together smoothly. In such a scenario you should try minimising the game tab and play it on a smaller screen. As far as using Discord along with your game is concerned, you should use it in the off-screen mode.
Add DiscoActivity
You need to add your current activity to your discord functions. Whatever game you are playing, if it is not added to your discord app then there might be errors while using discord screen share feature. To fix the problem of sound while screen sharing; add your activity to Discord. Follow these steps to ensure the smooth and error-free running of your application:
Open the Discord app and click on settings.
choose 'games' from all the options available on the right-hand side.
When you click on it you will see a 'Game activity' button. Make sure Click on it.
Then choose 'Add activity' and turn on the discord overlay tab.
Update Audio Drivers
There are background apps that might be creating problems. In case you are still facing audio issues, it could be due to these problematic background applications. You need to follow these steps to make sure, that your audio drive is up to date:
You need to press the 'R' and '+' key simultaneously to launch the Run dialogue box.
Enter 'devmgmt.msc' in the dialogue box and press the enter key.
Click on the option that says 'Audio Input and Output' and click on sound and hardware.
Once you have right-clicked on it you need to press the update button and then restart your computer.
Your problem of sound will most probably be resolved with it.
Reset Voice Settings of Discord
Sometimes you do not hear a voice on the app because the voice of your device on that app is set very low. To hear anything you need to change those settings. Follow these steps to ensure good quality audio of your discord app:
Open the Discord app on your device.
Click on 'Settings'. It appears on the right side of your device.
Click on 'Voice and Video'.
You can now change the voice settings here.
Once you are done, click on OK to finalize your changes.
Once you have followed these steps thoroughly your problem might be resolved.
Why Is Discord Screen Share Not Working?
Discord screen share is a wonderful feature. Many people face issues while using it. If you are also facing some problems while using the screen share feature, do not worry. This problem could be due to the use of an outdated version of the discord app. In case your mute button is turned on or if your PC does not support Discord then you might face problems while screen sharing.
This problem is very common among people who like to share their experience of playing games on YouTube. In case you are a gamer and you like to share the recordings of your games on YouTube, and you are facing this issue then do not worry.
Also Check : How to use Code Blocks Easily and Format Text in Discord
If you are one of those people who share their screens while playing games with their friends then read further. In case you and your friends have decided to share your screens while playing and you all have downloaded the latest version and instead of sharing the screen, discord starts malfunctioning. Do not worry, you are not alone.
Many people who have tried to share their screens while playing games found out that the screen crashes or it is simply not working. Some people then try video-sharing instead, but all in vain. Just like screen sharing, the video-sharing feature also malfunctions. No matter if it is downloaded on your PC or your Phone, it simply crashes.
There is a very simple solution to this big problem. Do not worry; all you need to do is simply update your discord app. Once the newest version of the app is downloaded and installed, you will see that the problem with screen sharing vanishes.
There is another solution to the screen sharing problem. In case you have downloaded or updated your discord app from a third-party website then you may face many problems and bugs. Simply uninstall any app that you have not downloaded from the original website. Download it again from a trusted store or the official discord website.
Conclusion
Discord is an extremely wonderful app with plenty of features. In case you are a professional game player then you might already be aware of the screen sharing and audio sharing features of this app. This has proved to be a good update. However, with every new update come new sets of problems. If you face issues in screen sharing or audio sharing, you are not alone. Many people face the same problem. Go through this article to solve those issues in very easy and simple steps.