Better Discord: It is a moment of joy for the uses of the Discord app as their creators have come up with a newer and better application to cater to your chatting needs. Named as 'Better Discord', this application indeed has proved to be better than Discord. Apart from the custom features, there are other benefits of using this app too. In case you are wondering about whether to use it or not and how to download and install it, this article will answer all your questions.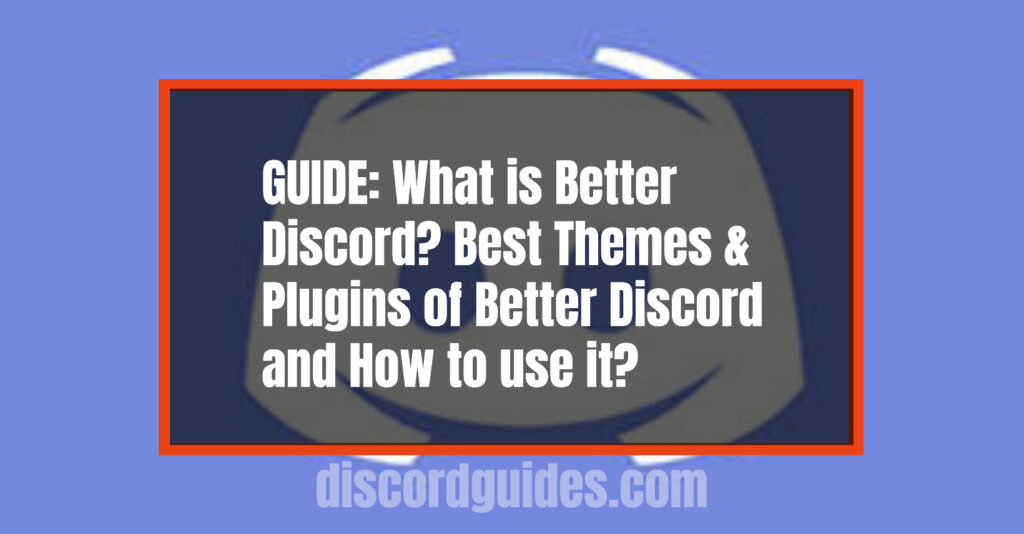 Better Discord is an application that allows users to chat. It is like using Discord but with better features. If you have been using Discord, then it is time to make a switch to its exciting version.
It even allows you to use Emotes and Emojis directly from Twitch TV. If you have been a fan of Music Bots on Discord then you can add a Rhythm Bot here. You can customize your server by adding themes and plugins along with the original features of Discord. If you are willing to use the better version of Discord, this article is for you. All your confusions and questions regarding this app will be answered here.
Facing a problem while sharing your screen with Discord? Learn how to enable and fix screen share error on discord.
Check out our guide on the Best Discord Bots you should install on your server.
Features of Better Discord
Now that you are aware of what Better Discord actually is, you need to know about the exciting features offered by this app too. Better Discord provides some of the most wonderful features to its users. Read on further to know more about these:
The Discord Client can be customized to suit your needs and aesthetics.
To focus on voice channels or some other specific channels you can use the 'Minimal Mode' provided by this app.
It also allows its user to download and customize the themes they want to use.
Reading about all these exciting features you may think that this might be a scam. But that is not true. Better Discord is absolutely legit. It is like using Discord but with out-of-the-planet experiences.
Is it Safe to use?
Better Discord is absolutely safe and is easier to use. Millions of people are currently using this app for chatting; they are pleased with it and have not complained till now. This app is extremely easy, convenient and 100% safe. All you need to do is, download and install it on your PC and start customizing it as per your own needs. As the name suggests, it has better performance as compared to the original Discord.
​Learn How to use Code Blocks Easily and Format Text in Discord
How to Install Better Discord on PC
Better Discord is a wonderful app that is very easy to use and customize as per your needs. To install it on your personal computer or PC, you will need to install the Discord app first. Follow these steps to install Better Discord on your PC:
Open the official website of Discord and Click on the Download Better Discord. You can also download it from any other trustworthy website.
Select the Operating System of your computer.
After the Better Discord app is completely downloaded, you need to start the installation process by double-clicking on it.
Click on Install BandagedBD on the installation menu.
Check the box against the 'Install to Stable' button and click on 'Install'
After the installation is complete, it is advisable that you restart your computer.
After you have completed the installation and restarted your PC, open the app from the folder and start using it.
Download Discord for Android, Linux.
How to Use Better Discord
It is one of the most wonderful apps that allow you to customize it as per your needs. The first look at it can make you a bit confused because the Bandaged BD version provides a lot of plugins and servers. But it is really simple and not at all complex. Once you get the hang of it, you will realize how easy-to-use all the plugins are.
To use Better Discord, you need to follow these steps:
After Installing the Better Discord app, click on the 'Launch' icon.
Click on the Plus button to create your own server.
Better Discord will then give you a link. You can use this link to invite the users to your server.
Once you have added people to your server this way, then you can communicate with them.
Once you are finished with this, you can use even more exciting features such as Bandaged BD and custom plugins.
Copy the link that was provided to you and paste it to your Bandaged BD server.
Now you can use the different themes, plugins, extensions to make your server even more appealing.
Continue reading to know more about how to change or customize themes and plugins of your Better Discord server.
How to Get Better Discord Themes
One of the best parts about using discord is that it allows the users to create their own themes. To make your server even more appealing you can use your own themes. The process of creating a new and custom theme is extremely easy and it takes very little time. To make a theme that best reflects your personality, follow these steps:
Open the official website that provides the themes of Better Discord.
Here you can download the theme that you think is the best.
Open the theme from your computer's folder and unzip it.
Copy and paste the unzipped theme on the directory.
Open the discord app, select the server you are using, and open 'Settings'.
Scroll down and click the button that says 'Themes'
With the help of the toggle button, select one of the downloaded themes.
You can even enable the discord screen share option. Apart from using custom themes and enabling screen share, discord even allows the users to enable new plugins. That will make your discord server even more appealing. To know more about it, continue reading.
Check out our guide on Best Better Discord Plugins and Themes and choose the one which suits your need.
How to Use Better Discord Plugins
Better Discord Plugins are one of the best features of this app. Apart from the custom themes feature, you can also use the plugins to make your Better Discord server even more exciting and appealing.
Here is how you can use new plugins:
Open the official website of Discord and go to the portal that provides plugins.
Download the plugin that you like the best and open it on your computer directory.
Unzip the file, copy and paste it into your directory.
Open the Better Discord app and select your server.
Navigate to Settings and click it.
Click on the button that says 'Themes', it will be visible when you scroll down a little.
You can enable a plugin and download it as per your needs.
How to Fix the "Not working issue" Error?
In some rare scenarios, the users of Better Discord come across non-working issues. This is usually the case while using plugins or new themes. It does not happen frequently but in those rare situations, if something like it happens, read further to know what you can do to fix it.
Is your Discord not working after you have used a new theme or plugin? Then try and follow the steps provided below:
Restart your computer after downloading and installing your themes and plugins.
If the app doesn't work, uninstall and install it again to check if it's working. 
FAQs
Is it illegal if you use Better Discord?
The terms and conditions of Discord are violated if one uses Better Discord, still, users prefer using it.
What is meant by BandagedBD?
BandagedBD means Bandaged Better Discord and it is the traditional version of the original app.
Is creating a Discord Server free of cost or do I need to pay for it?
It is absolutely free to create a Discord server.
Can Linux support Better Discord?
It can be supported by Windows PC, MAC, and even Linux.
Better Discord is a wonderful application for chatting; it is absolutely safe and easy to use. The features that allow you to customize your themes and plugins have helped the users to make their servers even more personal. It gives the users all the options that the Discord app gives and some more new and exciting features as well. Now that you know all its features how to use them, start using them now.