Apps that allow you to communicate with team members in real-time, such as voice and text chat, are extremely useful. Many professionals and gamers are already collaborating and exchanging important information through voice and text chat apps. Many people, especially gamers, use Discord, which is a common application. It deserves all of the credit for allowing gamers to collaborate in the periphery of games, whether they are friends or coworkers.
If you're looking for a Discord alternative due to server raids, chat bombardment, or abuse, we have got you covered.
Best Discord Alternatives (Apps like Discord)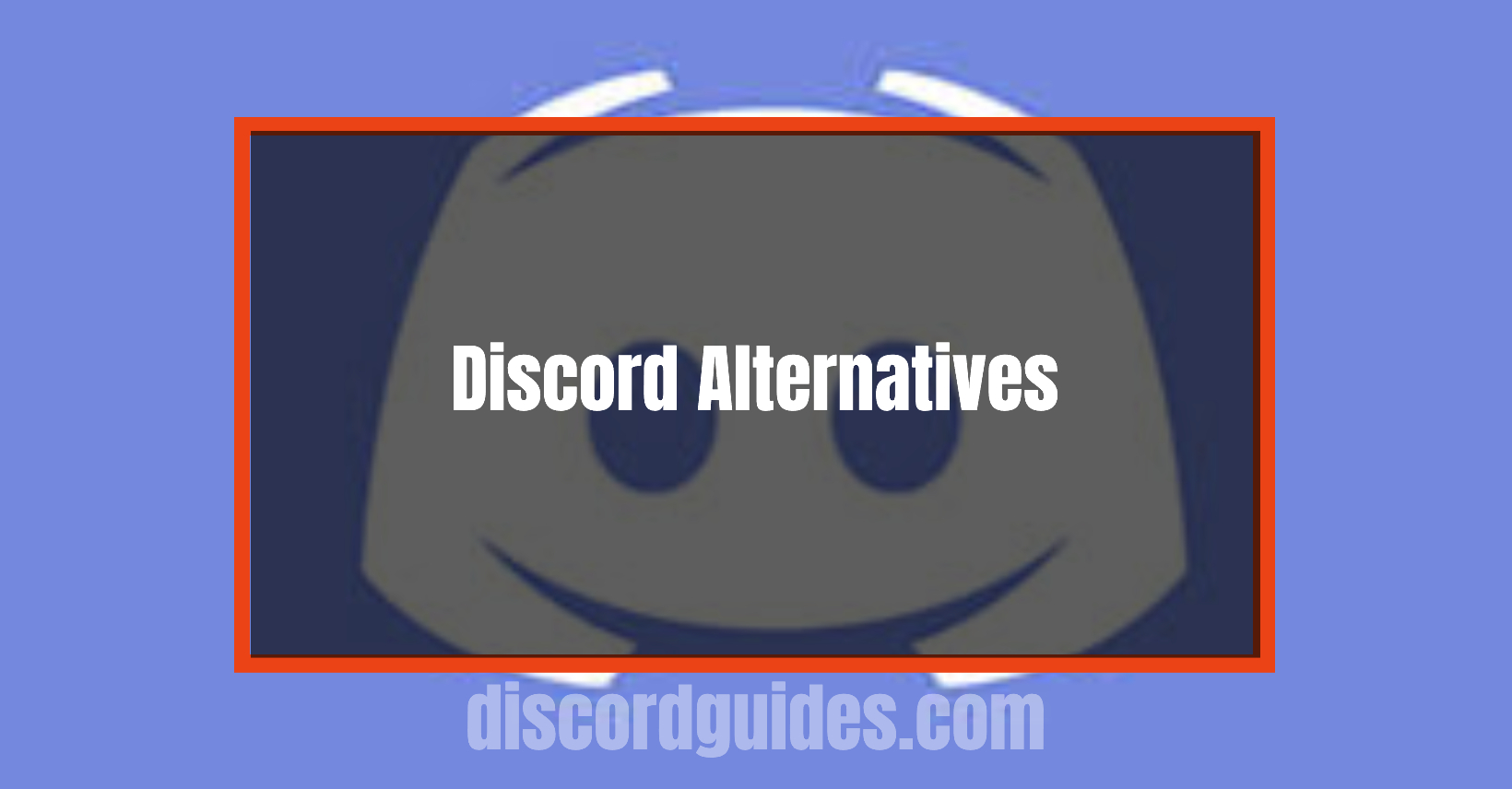 TeamSpeak
TeamSpeak is the most common VoIP communication tool for online gaming. TeamSpeak incorporates great sound to interact with team members across platforms with military-grade safety, lag-free performance, and unrivaled reliability.
Top features of TeamSpeak:
Automatic microphone volume modification, background noise reduction, and echo cancellation ensure lag-free communication.
As a matter of course, there'll be integrated military-grade protection.
Decide who is allowed to talk, who is allowed to enter channels, and much more.
Over 100 add-ons, skins, and voice packs are available.
A cloud-based sort of service which makes it manageable to synchronize your servers, settings, and preferences across all of your devices.
Check out DiscordGuides.com for more detailed guides.
Troop Messenger
Troop Messenger is straightforward team coordination and collaboration platform for small, medium, and large groups. Troop Messenger is similar to Slack in that it does not restrict the number of messages that can be searched. Team members can send and respond to messages in real-time here, which is a bonus.
Special features of Troop Messenger:
Burnout: Talk privately with members of your team in a shared chat conversation slot.
Forkout: Select several teammates and groups to send a single message to everyone!
Respond Later: You can use the Respond Later function to react to the chat message later. Apply an answer later filter from global and advanced search to filter out those tagged messages and happily respond when you're ready.
Shoutout: A shoutout is a greeting that is broadcast to a wider audience.
Jumper: Pick a subset of the group's members to initiate a private conversation in a new chat window.
Chanty
Chanty is a task management and team chat tool. It allows you to communicate with your team through chat and voice messages, as well as audio and video calls. Manage tasks from a single location – inside the Chanty app. Users can convert messages into different chores and delegate these to their team members accordingly.
Integrate Chanty with third-party applications like Trello, Asana, Zapier, Google Drive, Dropbox, Onedrive, Github, Gitlab, Bitbucket, Mailchimp, Giphy, and others to increase productivity.
Top features of Chanty:
Email history that can be searched indefinitely
Project management – using your messages to create tasks
Kanban board
Video and Audio calls
Teambook hub
Voice messages
Pinned messages
@ mentions
Discussion threads
Dark theme
HeySpace
HeySpace is considered to be a great application because it helps users manage projects that include features for communication and collaboration. It's the ideal combination of project management tools and a dedicated collaboration platform. Perhaps this is why many teams, including Blitzmetrics, Arizona State University, Wondersauce, and others, use it as a strong Discord substitute.
Features of HeySpace:
Allows you to send messages to coworkers and share rooms.
When anyone contacts you, you'll be informed and a badge for unread messages will appear.
Clearly see the tasks and changes in the conversation.
In one-to-one chats, add mentions, picture attachments, and push alerts.
In sticky notes, you can use search, filters, and bulk behavior.
Make a card out of it if anyone says anything important, and it will be added to the cards list.
Slack
Slack is often lauded as one of the best team chat applications. When it comes to integrations, it outperforms Discord. Slack, unlike Discord, interacts with a variety of third-party applications such as Trello, GitHub, MailChimp, and others. It speeds up communication by providing a centralized event feed right next to your conversation, allowing you to stay on top of important discussions.
Salient features of Slack:
By dragging and dropping a file to any HTTPS channel, you can easily upload it.
Ping people, even if they aren't online, to get their attention by @mentioning them.
A well-designed and easy-to-use user interface.
Using shared channels between different workspaces.
Modifiers for advanced searches.
Check out: Discord vs Slack Which one you should Download & Install?
Mumble
Mumble is the next Discord option on our list. It's a low-latency, high-quality voice chat app that's open-source and designed to be used when gaming. It's very different from Discord, and users can find it a little "difficult" because it doesn't have browser support, which Discord users love.
Top features of Mumble:
Allows people who are worried about their privacy to get their chats encrypted.
The authentication function prevents unknown people from entering chat rooms.
With positional sound features, the voice quality is impressive.
Supported by Android, iOS, Linux, macOS, Windows
High-quality audio.
Low latency.
Positional audio.
ACL-based server permissions.
In-game overlay.
Certificate-based authentication.
Flock
Flock is a modern team communication and collaboration tool with features including group messaging, project management, and more. Flock is a good alternative to Discord for organizing documents, messages, and files in a centralized location. You won't have to move between applications because it works seamlessly.
Special features of Flock:
Team messaging with one-on-one or group conversations about your tasks, department, or shared interests.
Anyone can start a direct chat or a group chat with you.
Find and share details about your projects quickly and easily.
Use video and audio calls to hold virtual meetings.
Message history
Communication management
Discussion threads
File sharing
Instant messaging
Project notes
Search functionality
Task scheduling
To-do list
Drag & drop file sharing
Auto-generated mailing lists
Overtone
Overtone is a direct competitor to Discord, as it is a strong, text application that incorporates high-quality voice as well. This has been developed to boost your gaming experience.  It's based on VIVOX, the industry's most dependable voice network. It has been incorporated into world-famous games like Fortnite, PUBG, World of Tanks, and many others since it is trusted by leading gaming studios.
Features of Overtone:
It's a straightforward and trustworthy experience.
It's light and easy to set up.
Text messages, voice chat, and community chat are all supported by this application.
There is hardly any requirement for downloading a separate client framework because Overtone can be run directly from a web browser.
Hangouts Chat
Google's Hangouts Chat helps you to have a DM (direct message) or a big group chat with other Gmail users. The distinction between Discord and Google Hangouts is that Google Hangouts needs a Gmail account, while Discord does not. Discord has a lot of features, so it's a bit more complex than Hangout chat.
Features:
Hangouts incorporate an audio feature and let users video call one another, and even text them.
Special permissions include the ability to add and remove people as well as modify comments.
It's very easy and straightforward to use.
It's ideal for those who aren't very tech-savvy; there's a shorter learning curve.
Microsoft Teams
Another good Discord option is Microsoft Teams. It's the ideal platform for bringing everything together in one shared workspace where you can talk, meet, share files, and use business apps.
Salient features of Microsoft Teams:
With group chat, online meetings, calling, and video conferencing, you can get the entire team on the same page.
Use built-in Office 365 applications like Word, Excel, PowerPoint, and SharePoint to collaborate on data.
To keep the company going forward, incorporate your favorite Microsoft applications and third-party providers.
Office 365 provides end-to-end security, administrative control, and enforcement.
File sharing.
Screen sharing.
Audio conferencing
Usage reports.
Together mode
Steam Chat
Steam Chat is a gaming messaging and voice chat application that can be used in place of Discord. It's very close to Discord, as Steam's current user interface is identical to Discord's, making it a great Discord substitute. Plus, in Steam and Discord, voice and text channels function the same way, allowing users to enter one voice channel at a time and speak out loud to others.
Special features of Steam Chat:
Allows you to submit a special URL to others in order for them to access a community chat or server.
Set roles to give people different permissions, such as adding and removing people, managing server information, and limiting chat.
Windows, macOS, and Linux are all supported platforms.
Raid Call
You can try out RaidCall if you're looking for a Discord alternative that supports large groups and surveys. It's an in-game VoIP application that's common among gamers. It has a lot of features including voice recording, poll announcements, voice reduction, and file and connection sharing.
Salient Features:
A single Raid Call community can hold up to 100,000 users at a time.
YouTube videos can be shared with the RaidCall community.
While watching embedded Twitch and own3D streams, you can chat with other members of your community.
Find new online communities to join based on shared interests, sports, and events.
Connect your Raid Call account to your Facebook account and invite your Facebook friends to enter your Raid Call party.
Skype
Go with Skype if you want a quick audio and video chat program without any of the advanced gaming features listed above. Both tools have a built-in screen sharing feature, but it functions differently in each. The "+" key can be used to share your screen during a voice or video call. You can share your entire screen or a portion of it in Discord.
Special features of Skype:
You may make private audio and video calls with one person or a small group.
Allows you to open multimedia files and migrate all file forms.
For voice calls, Skype recommends a bandwidth of 100 kbps.
Ventrilo
Ventrilo is best known for its excellent sound quality and low CPU use, all of which are important features in a VoIP app for gamers. Its user-friendly interface is also a bonus.
Features:
A perfect Discord replacement with low latency voice calls and a lightweight interface.
The Client computer stores all text-chat messages and audio recordings locally.
Supported platforms are Windows, macOS, and Android.
The Client computer stores all text-chat messages and audio recordings locally.
Protection, power backup, adequate internet bandwidth, and maximum uptime are all provided by data centers.
Viber
Viber is another straightforward app that allows you to make free, encrypted calls and messages to anybody, anywhere. Viber offers more services besides just messaging; it incorporates
tens of thousands of stickers and GIFs for every emotion.
Features:
Call with high-definition audio and video
In group conversations, like and respond to messages.
Quickly send voice messages by recording them.
Right in your conversations, find and share videos, songs, and more.
Riot
Although Discord has a lot of functionality, it lacks end-to-end encryption for your conversations. That's where Riot comes in as a great Discord substitute. It allows you to safely build, share, connect, talk, and call.
Top features of Riot:
Hold one-on-one or group interactions with users.
Join or leave ongoing group calls in a room without having to be invited or disrupting the conversation.
When in the middle of a chat, send, receive, and access files.
For fast sharing, use the drag-and-drop feature.
Files, including messages, are archived: look for them in a room's file list panel or scan by filename.
Tox
Tox is a tool that is well-known for offering advanced security features to its users. Tox is an easy-to-use app that links you with friends and family without someone listening in, whether you work for a company or a government agency. It's worth noting that it's one of the few apps that is completely free and has no advertisements.
Salient Features of Tox:
Military-grade encryption is used to keep data confidential and protected from prying eyes.
Email, audio, and video chat are all supported, as well as a handy screen sharing feature.
Tox can be used by both Windows users and installed on MacBooks as well. It's also supported by: Linux and on Android smartphones along with iPhones.
Wire
Wire is a secure communication network that many companies use for secure messaging, file sharing, voice calls, and video conferences, all of which are protected by end-to-end encryption and European privacy laws. And if they don't have a Wire account, you can easily communicate with clients and partners.
Special features of Wire: 
End-to-end encrypted messages, calls, images, and files
Audio and video phone calls that are encrypted
External parties will be accommodated in secure guest quarters.
There will be no advertisements, profiling, or selling of user data.
GDPR-compliant and designed for business.
Beautiful apps for mobile, desktop, and web.
Why use an alternative for Discord?
People use Discord for two reasons: fancy design and a love of games. Regardless, it's better to navigate through other alternatives as well. We're not saying it's horrible or anything, but it's certainly not the best option for companies and organizations because it caters only to the gaming community. Apart from that, the file upload cap for free users is just 8MB, and for paying users it is 50MB, which is considerably less than its competitors. That is why you should look for a Discord alternative.
Discussed below are some factors that will influence your decision.
Unprofessional user interface
There isn't any self-hosting available.
Raids on servers occur frequently.
A flood of messages
There are no solid integrations.
Concerns on privacy
Frequently Asked Questions
What alternatives do I have to Discord?
Instead of Discord and the above-mentioned applications, you can use Telegram, Zoom, or Element. With the ability to host forums, conversations, voice and video calls, file sharing, and more, these applications are somewhat close to Discord.
Is it possible to be hacked by Discord?
Yes, private servers have been hacked. They spam the server and alter the rights of the server's manager. Apart from that, there have been several accounts of Discord being used to steal account credentials, which is alarming.
Will Discord be discontinued?
No, it's not true. There hasn't been any news like this. Discord, on the other hand, often shuts down servers that cause crime.
That concludes our list of the best Discord alternatives available. As you can see, there are many similar applications available on the market, each with its own set of features that you can use for gaming or in a professional environment. Although some of these apps are primarily designed for gamers (such as Discord), others have useful productivity features that can aid the office workflow.
Conclusion
Discord has managed to retain its status as one of the best chat apps despite the privacy issues. Alternative Discord clients like Troop Messenger, on the other hand, can give Discord a run for its money with features like adding an orange user, a confidential chat window, and high-grade protection.
Did you run into any issues when using Discord that prompted you to search for a similar app? If that's the case, what Discord alternative are you currently using? Let us know in the comment section. All of your queries will be entertained, kindly post them in the comment section. Hope this article was helpful for you. For more helpful articles like these, stay tuned!