Uninstall Discord App: Discord is an application that many people use these days for communication. It's considered to be the most popular communication app among groups of gamers. Discord helps people to communicate through voice or text messages while playing any game without having to change their screens or switch applications. This is made possible by the transparent screen featuring messages that appears while people are playing games.
Even though it's a great means of communication, some people might not find it that useful and uninstall it or delete discord account permanently. However, the process of uninstalling Discord is not as easy as its installation. People might face an issue of the app screen crashing when uninstalling Discord on your computer.
Before you start with the uninstallation process, we have published How-To guides on some common Discord Errors and their fixes. Do check them out. You might change your mind and continue using Discord or Better Discord.
To make sure that the Discord is finally uninstalled from your computer, follow the simple steps that are outlined below for your convenience.
The process of uninstalling Discord from your PC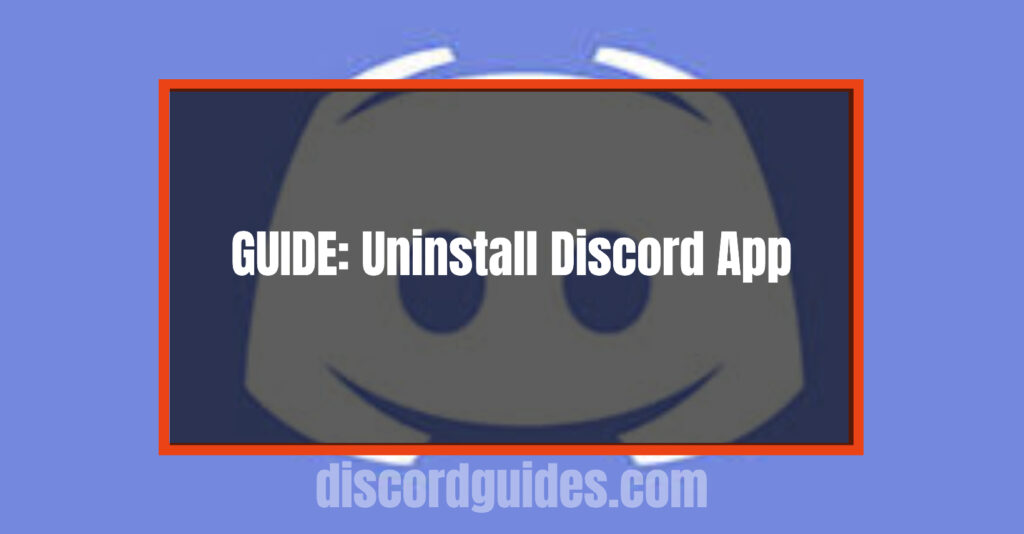 Uninstalling the Discord application from your smartphone is quite simple and hardly requires any time. However, uninstalling the application from your computer can be a bit tricky and difficult.
Read further to know How to Uninstall Discord on your personal computer.
Stop the Discord Background Process
Users of this app often face problems while uninstalling it on their computers. This is because Discord constantly crashes during the uninstallation process. The main reason behind this is that sometimes, the application might be running in the background. To prevent any error during the uninstallation process, you need to make sure that the Discord is not running with other background apps.
Close all the tabs and windows of the Discord app that might be running on your personal computer.
Go to the Taskbar of your computer and right-click on it.
Now, close any application that's running in the background.
You need to make sure that all the tasks of Discord have been closed.
One way to uninstall this app easily is by going to the Task Manager of your Windows Settings. This can easily be done by pressing Ctrl+Shift+Esc and you'll reach the startup tab.
Click on Discord and select the Disable option.
Also Check : Best Most Funny Discord (TTS) Funny Text to Speech Songs & Messages
Uninstall Discord on Windows
First of all, you will need to delete the temporary files and move on to the task manager.
To completely uninstall the Discord App, you need to make sure that the auto-run feature is disabled. You can do this by visiting the App Settings tab on Windows.
You need to type up 'Run' in the Windows Search Box.
A window with the codes will appear. You need to type '%appdata%' here and press OK.
Find the Discord folder here and completely delete the file.
You will need to open the 'Run' code box again. Now type '%localappdata%' on the box and click on OK. Here, a Discord folder will appear, delete it.
The next step will be opening a system uninstaller. This can be done by typing it on the Windows Search bar. Here, you are required to open the "Control Panel".
You will see a list of all the apps that you installed. You can locate and open the Discord to uninstall it permanently.
How to Uninstall Discord on Mac?
Macbook are very easy to handle and operate. However, if you try uninstalling the Discord App by right-clicking on it and pressing 'quit', you might face some problems. You can follow these simple steps to make sure that the app is completely deleted from your MAC.
Close all the tabs of Discord that may be running in the background.
You need to open "Finder" and press Shift + Command + A to open the applications folder on your Macbook.
Once the Application Folder is open on your MAC, you need to click on the Discord.
Right Click and you will see a Trash Bin icon. Click on it and finally empty your Trash Bin.
If by any chance you are still facing problems while deleting the app or you feel these steps are too complicated, you can use any third-party uninstallation apps. Continue reading to know more.
Also Check : How to use Code Blocks Easily and Format Text in Discord
Uninstall Discord through an Uninstaller Application
Uninstalling Discord with the help of an uninstaller application is by far the easiest way to uninstall any app. Uninstaller applications are ready-made applications that can uninstall any other app for you. For this, obviously, you need to download one more app on your personal computer. Download and install the "Total Uninstaller App" on your PC. Launch it and follow these steps to permanently get rid of the app:
Once you have successfully downloaded and installed the 'Total Uninstaller App' on your PC, open it. Click on the Discord icon that appears in the menu.
Now select the 'Run Analysis' button.
The Uninstaller App will start Scanning the computer system and you will see all the files related to Discord.
Once all these Discord-related files are visible, click the 'Complete Uninstall' button and confirm your choice by pressing the 'Yes' button.
On clicking the button two times, the uninstallation process will begin on your computer system.
Let this whole process progress and finally click on the 'Continue' button.
Once this step is over, you need to click on the 'Scan Leftovers' button. Select the 'Delete Leftovers' option and the Discord app will be completely removed from your system.
Press 'OK' to confirm and you can close the Uninstaller tab.
The final step is to restart your computer to make sure that Discord is permanently deleted from the system.
Check Discord Alternatives
Common Issues while Uninstalling Discord
One of the most common problems faced by people trying to uninstall this app is that it does not go away properly. People might uninstall it and the next time they open their computers, it will still be present like a ghost. The incomplete installation is one of the most common complaints.
Another issue faced by the users is that the Discord App will open automatically even when it has been deleted. Sometimes it might not be visible on the system but it may be creating havoc in the background. You might even face a problem while moving it to the Trash Can Icon.
To make sure that the app is completely removed from the system and these problems do not occur, follow all the steps mentioned above.
Discord is a nice app for a conversation with people who like to talk while playing games. In case you downloaded the app and were facing numerous bugs and issues, or you simply found that this app was not meant for you, you can uninstall it any time. Though it sounds like a very simple procedure, it is quite complex. To make sure that the app is uninstalled properly and does not cause any problem in the future, follow all the steps that have been mentioned in this article.