Roblox Terms and Slangs: Roblox is a very robust game development and playing platform that offers a wide range of features to its users. It is a completely different gaming world that gives players a very delightful gaming experience. But Roblox has its own language and a complete list of terminology that the players need to understand to use this platform effectively.
It is a very engaging platform that provides various benefits to its users, including a wide range of games for all age groups, advanced features like Roblox money for trading items, sending messages, etc and a very efficient and interesting mode of introducing children to the world of. coding.
But to understand the codes and write the instructions for developing a game and also playing it, one needs to understand the various terminologies.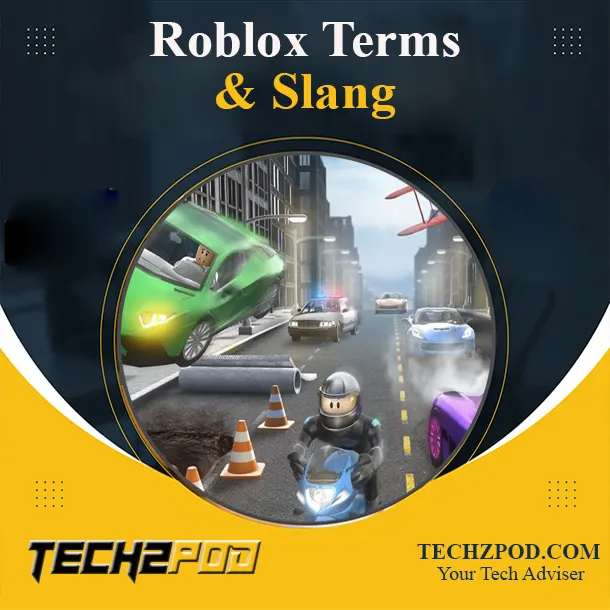 Also, in Roblox Players use various slang or bad words when they feel annoyed or irritated by the actions of some other players.
They also use such words sometimes for fun and send them to their friends on Roblox. For a deep understanding of the Roblox terms and slang, there is a complete list available, which you can also name as the Roblox dictionary.
Also Check: Roblox Jailbreak Codes & ATM Updated List
It provides all the words that can be used by players and developers for different purposes. These can really improve the gaming vocabulary of a Roblox user and the person can easily take gaming decisions to monetize the benefits.
It will help a user to avail the benefits of all the features of Roblox both as a gamer and a developer.
Roblox Terms & Slangs
There are several terms and slang used in Roblox that can help a user whether a kid or a grown-up individual, to understand the Roblox content very easily. The list below has been provided to name and explain the uses of various terms and slang of Roblox.
Adopt me: This term is used to describe a category of game in which the players can adopt a pet or another avatar and take care of them by purchasing different items from inventory to feed them, groom them, accessorize them, etc. It is one of the most popular categories of games in Roblox. It is a very vast role-playing game that has a very large player base and this game has achieved a very massive financial success.
Also Check: How to Change Username or Display Name on Roblox?
AFK: It is the short form Away from the keyboard and is a very common term used by players in a game of Roblox when they want to take a short break from the game. So, they send messages to other players in the game saying AFK.
ABC: It is not an acronym in Roblox, just like we say 123 ABC is used to refer to the easy things that s player wants to do while playing a game in Roblox. This three-letter term is used mostly in adopting me games of Roblox by the players to refer to a collaborative action like finding a pet or character.
Brick: This word as the name suggests refers to a block-like structure that is used by the player to create buildings, houses, and other infrastructures in Roblox while playing a game. This item can be traded like any other item in the inventory list. It can be used to create any custom objects in Roblox not necessarily buildings only like a bench, a stair, a rack, etc.
ISTG: ISTG is the short form of I swear to god and is used by players in-game when they interact with each other while they chat with each other. For example, if a player has not traded an item but the other team members are blaming him for that, then he can say ISGT, I have not traded any item in your absence guys.
Cord/Discord: Cord or discord is an online software in Roblox that allows players to do voice and text chatting with other players and even strangers. This can be a concern for kids who use Roblox as they may get exposed to wrong content and people. So the parents can keep a check on their kids if they are talking about cord or discord in the Roblox game.
Noob: Noob is a very common word that is used by players all over the world whether they are using the Roblox app or something else for playing games. It refers to a player who has just begun to play a game and is not a pro at it. Such a person will make mistakes and errors while playing games and will learn slowly to become a pro. It is used by experienced players to say something to a beginner.
Also Check: How to Fix Roblox Error Code 103 on XBox One?
Obby: Obby also referred to as obbiee is a category of game in Roblox in which the players escape the hurdles in several stages to win the game. The obstacles could be yards, buildings, towers, vehicles, or any other thing. Obby games are very popular in Roblox and kids especially like them very much. But the more interesting thing about this game is that it is even more fun to create an obby game rather than playing it.
Lua: Lua is a programming language that is very easy to learn and is used to create games. It is the basic language that the developers use in Roblox to develop customized games. It is very easy even for kids to write codes for developing games and other customized objects and accessories in Roblox games using Lua. It provides a base for beginners to learn to code and thus is liked by most of the new developers. Roblox players who are interested in knowing the secret behind the fantastic games they play, then Lua is the key to revealing the secret.
Pwned: This word is also called pwn and is pronounced as pone. It means that a player was very badly defeated in a game. It is a very common word that is used by Roblox players. For example, if a player wants to tell his team that let's make the other team that is new in the game, lose with a big margin, then he would say let's pwn the opponent because they are noobs. So, this word is liked a lot by the players of Roblox.
Oof: Oof is a word in the Roblox dictionary that is used by players to show regret about someone or something that has happened by mistake in a game. It means the same as the word phew, oh shit, oh god, etc would mean. This word may be used by players of the opponent team in Roblox.
PTS: PTS is the short term used for permission to speak. When doing voice chat in a Roblox Game or even text chat in groups, players use this word to ask for permission to speak when others are speaking.
Roblox Studio: Roblox Studio is the interface of Roblox that helps the players to play and develop games. This makes it very easy for the users to understand the basic working of Roblox. It is the same as the studio of any other programming language or application.
Also Check: ROBLOX for PC Download
Reeeee: Reeeee is the word used by players and developers in Roblox to express anger, annoyance, or frustration on someone. It is one of the favorite words of most of the players in the Roblox dictionary as they can easily express themselves by saying this word. It is like the exclamatory word used in the English language.
Robux: Robux is the digital currency of Roblox, which is used by players and developers to trade items. The players can also earn money in games in the form of Robux and then can convert it into real money or can further use it to purchase more items that can be used in developing or playing games. With Robux, players can also purchase the subscription or premium of Roblox that will enable them to use the advanced features of Roblox.
Robloxian: This term is used to refer to all the players and developers that use Roblox either for playing or developing games. The outsiders called such people Robloxians while these users introduce themselves to others as Robloxian to the outsiders.
XD: It is the word used to represent the smiling emoticon that people normally use while chatting with each other in Roblox as well as on other messaging and social media platforms. Instead of sending the smiling emoticon to each other in Roblox, players send the message XD to each other.
SMH: This word is the short form of shaking my head in Roblox. It is a type of slang that the players use for each other while playing a game or otherwise to show that they are not happy with them. It is slang that a player uses for the other player when he feels very annoyed or irritated with the action or the way another party is playing the game. It is an action as the name suggests which is used to show displeasure towards a player who has really goofed up in a Roblox game by making silly mistakes, which just needed the application of common sense and no technical expertise. This action is used to express a reaction that cannot be communicated in a simple way.
Brick Battle: Brick Battle is a type of game available in Roblox, in which the players play a battle against each other head to head but in teams. This type of game is liked by all age groups as people can ask their real friends to join their team and fight a battle with the opponent.
So, these are the most commonly used  Roblox terms and slang that can really help the players and developers to have a better understanding of the Roblox platform and games. Learning these terms and slang you can easily understand what other players are saying to you. It will also help you in becoming a pro at several games and you can say that you are a Robloxian. It enhances the capability of a Roblox user both as a player and a developer.
FAQs
Can we create our own terms and slang in Roblox?
Ans – Yes, players and developers can create their own terms and slang in Roblox but then you will have to tell the meaning of those terms to other people in Roblox.
Can players say slang directly in Roblox?
Ans – No, players cannot say slang directly in Roblox, for doing so they have to use the short form of those slangs.
Are noobs considered fools in the Roblox game?
Ans – No, noobs are not fools but they do not have much knowledge about playing the game so they are not as good as the pros.
Does saying AFK means that a player is leaving Roblox forever?
Ans – No, it doesn't mean that a player is leaving Roblox forever, it simply means that the player wants to take a break for some time.
Is there any list that has been provided by Roblox for the important terms?
Ans – No, Roblox does not provide any list which contains all the terms and short forms because these have been developed by the users.
Also Check: How to Wear Two Hairs at Once on Roblox?
Can two players in Roblox exchange the Robux currency in a game just like items?
Ans – Yes, Roblox allows its players to send its official digital currency that is Rpobux to different players who could be their friends or even strangers.
Is it possible to send voice messages in Roblox without using Obby?
Ans – No, currently this feature of sending voice notes is possible only through external software like Obby but, the Roblox team is working to upgrade this feature in the built int form in Roblox studio.
Do Roblox terms help the developers?
Ans – Yes, there are many Roblox terms that can really help the developers in creating an interesting game like Obby, Lua, SMH, etc.
Keep following TechzPod for more!