Roblox Toy Codes: Roblox is one of the most popular online gaming platforms where you can both play and create games for yourself and others. I know that sounds very exciting.
But what is more interesting is that all the game series do have a Toyline and each of the toys carries a code that you can easily use. Those Roblox Redeem Toy Codes can be redeemed by buying virtual items.
It is Jazwares that offer such exciting toy codes and they have joined hands with Roblox for this venture. However, this is not our point of discussion here. Now the first question is how do we find the Roblox toy codes? Let us discuss that first.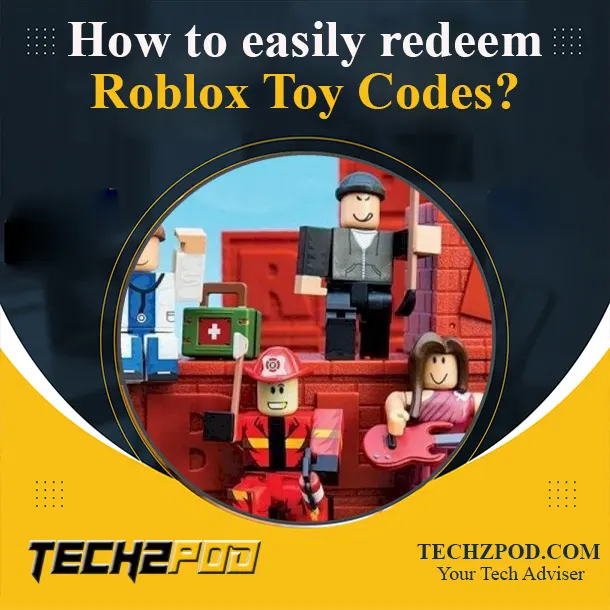 How to find the Roblox Toy Codes?
The processes are different for a few games. Firstly, we will discuss How to Find Roblox Toy Codes for Jazwares action figures –
When you receive the package, look at its front.
There you will find a token or code card attached to the inside of the packaging.
Take it out and on top of that token, you will find something like 'Scratch off Here' will be written.
Next what you need to do is scratch it off with a coin.
Then you will find your virtual item code.
Now the process to acquire item codes is a bit different for Nerf blasters and Monopoly. Here, you need to look for a code card insert. But there is no need to worry as you will find it inside the package.
Keep following TECHZPOD for more amazing content!
How to Redeem the Roblox Toy Codes for your Android Phones and PC 
You get to receive a Roblox Toy Code whenever you buy a Roblox Toy. These codes are used to refurnish your Roblox Avatar.
So you can buy these toys from various e-commerce websites online and various offline stores.
Now there are two types of Roblox Toy Codes- normal codes and chaser codes. The only difference between both them is that chaser codes are rarer than normal codes. But both codes can be redeemed in Roblox.
Redeeming a code in Roblox is pretty easy to do. The process is also the same for both mobile and PC users. So both the users pay attention to reading the steps here as it might come in handy if you don't know how to do it.
Now follow these steps-
After receiving the toy package, open it carefully using the instructions mentioned in the 'Easy to Open Path' at the back of the package.
Inside the plastic packaging. You will find a 'Code Card'.
Remove it from its place.
There on the top of the token, you will find something written like' Scratch off Here'.
Usually, the codes stay hidden underneath silver labelling.
Scratch the silver lining with a coin gently and do not rub too hard as it might damage the code.
We hope you have received your unique code by then.
Now you have to visit the Roblox website. But to help you, we have provided the link to the webpage down below. Go there and click on it.
Log in with your id and password.
You need to choose which item you want to buy.
You will find a box with the name 'Enter Code' there.
Just type your code under Redeem Roblox Virtual Item.
Tap on the 'Redeem' option.
After that, the item you bought will be added to your inventory.
So this is how simple the process is to redeem your Roblox Toy Codes on your laptop or PC and mobile phone.
Also Check: Is Roblox Down?
How to Redeem Roblox Toy Codes on your iPad and iPhone
For those who use iPads and iPhones, let me tell you that the process is as simple as the previous one.
The process is the same for iPad and iPhone users when it comes to receiving the toy code. You will get it in both your online and offline packaging of the item
Now you need to log in to your Roblox account through the app or the Roblox webpage.
Put your Roblox log-in id and enter the password.
Then a box with 'Redeem Roblox Virtual Item' will appear. Tap on the box or press the two 'aA' on top of the page.
Now you can redeem your Roblox code from the Toy card you scratched.
Enter the code, click on the 'Redeem' button and you are done.
This is how quick and easy the process is. Please do not worry. Just follow these steps as mentioned and you are ready to take advantage of the codes you have received inside the packages.
However, a question may come to you naturally how many times can you redeem a toy code in Roblox? Is it only for one-time use or you can use it multiple times?
We will also redeem that query of yours here. For one account, you can only use a code once. But if you have more than one account, you can easily use the same code for the other accounts also. Isn't it so cool?
You can also share your codes with your friends and enjoy the experience while you are playing the games.
Also Check: Roblox Terms & Slangs
Conclusion
This is all you need to know about the process of redeeming the Roblox Toy Codes. If you find it difficult, please follow the instructions carefully and we promise that you will love it.
The process can be different depending on the device you are using- whether it's a computer, PC, Android phone, or iPad. So please be careful while following the instructions.
Also Check: Download Roblox for PC
FAQs 
Can I redeem the Toy Codes in Roblox on my android phone?
Yes, you can. We have elaborated the whole process of redeeming the codes and using those how can you buy accessories for your Roblox avatar. But wrapping it up in a nutshell, you need to first look for the code inside the package. Then open your Roblox account on your phone and redeem your code there. Please refer to the steps mentioned above.
Can we buy virtual items by using the toy codes in Roblox?
The Toy Codes can be used to buy the virtual items you desire to get for your Roblox avatar. You just simply need to follow all the steps we have mentioned here and redeem your codes to buy the virtual items. And you will be ready to play your game.
Also Check: How to Enable Bubble Chat on Roblox?