Make a Tycoon Game in Roblox: Roblox is a very versatile platform, it not only allows users to play different games but can also develop different varieties of games based on their desire. The game developing aspect of Roblox is very user-friendly and even beginners can develop games by learning its simple programming language which is Lua.
Tycoon games are liked very much by both developers and players. The developers have a lot of options for customization, that is why they want to create a tycoon game that is unique and they can earn well.
Also Check: How to Uninstall ROBLOX?
What is a Tycoon Game?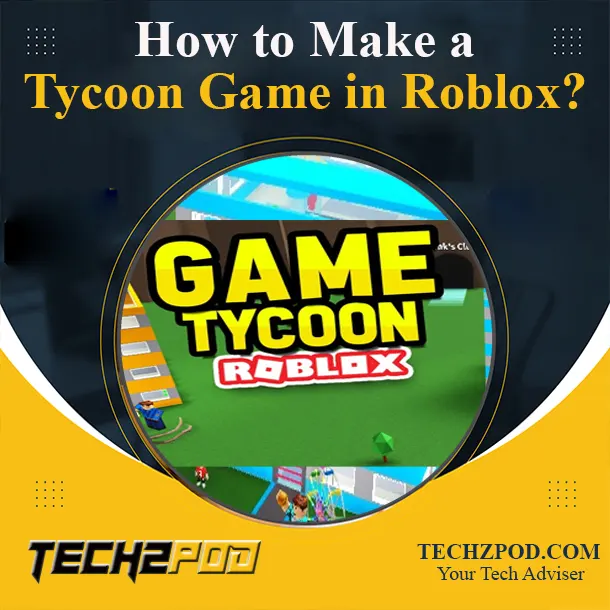 A Tycoon Game is a special category of game in Roblox where the developers can create an entire city or town or island by adding several objects and items. This is a very robust platform, where the developers can earn a lot of money by adding many purchasable items.
Also Check: Roblox is Down? Live Status, Current Server Outrage, and Problems
Also, the developers can expand the game by upgrading several features that will help in earning more. For a Tycoon Game, you have created everything from strict and for adding unique objects in the game, you must have the knowledge of coding and Lua Programming Language. The developers find this game very interesting and also get the motivation to make it unique and advanced as it can be a good business opportunity for them.
Ever wondered How to change name in Roblox?
Steps to make a Tycoon Game in Roblox
Although making a tycoon game in Roblox is a lengthy  task and there are many glitches that the developers may have to face, but the developers can follow the below-mentioned steps to make a tycoon game in Roblox as these  steps will try to reduce the glitches while making and releasing the games:
Go to any web browser and download Roblox studio on your desktop or PC. You must have Roblox studio to develop any game in Roblox as you cannot create it online from the official website. Roblox Studio can be downloaded on both windows and mac devices so you do not need to worry about the operating system.
After downloading Roblox studio, open it and log in to your Roblox Account. Then click on the create tab option on your profile page to open the window of Roblox studio. You will find a lot of game development options and tools there.
Go to the insert tab and click on the Tools menu to create a list of tools that you will require to develop the Tycoon Game. The tools menu will provide different types of tools and editing options to create your game, and for this, you will have to create faceplates.
A faceplate will give a basic setup for making the tycoon game. To create a faceplate, go to the categories option and click on the faceplates button. You can different tools to customize your game's environment and base.
After that, again click on the categories option and choose the Tycoon Start Kit option from the categories menu. Once you will click on it, it will appear on the faceplate.
Then you need to decide and select a currency for your tycoon game. For example, if you create a game with buildings then you can use the blocks or bricks as currency, or if you want to make an island game, then flyovers can be a good currency for the game.
It is important to define a currency for your tycoon game if you want to earn through the game. Defining a currency ensures that Roblox will recognize it and players will be able to purchase items and get access to premium features through this currency.
For doing that, click on the tool panel and select the category of the tycoon game you want to make. After that click ok, Roblox will save the respective currency as per the Tycoon category and you can easily rename your currency later on.
After that, you need to create a workspace so that Roblox can understand the main area of your Tycoon game. To do so, click on the Insert menu and choose the Explorer tab. Then,  select the option of Workspace from the Explorer menu. This will create a workspace for your game.
Now you can add multiple items and objects in your workspace as objects are the most liked feature in Tycoon games of Roblox. For adding objects, go to the object menu on the upper part of the screen and then click on the script option.
A list of scripts will appear from which you can select the type of game you want to make. Or you can create your own script in Lua by coding and then importing it into Roblox.
After selecting the script, you have attracted it to the objects. For that drag the buy button that you selected for the script and bring it to the Explorer panel where you will see your objects. Now, you can easily develop your town or city for tycoon games using the attached objects.
This is a long process as you have to attach every object to the button, and then only you will be able to release or launch the game.
Once all the objects are attached, a tycoon game will be created and now you can further edit it to add more items that can be purchased by players. You can now launch your game on Roblox Studio and players will be able to play it.
Also Check: How to enable Bubble Chat on Roblox
FAQs
Which programming language is required to develop games in Roblox?
Ans – Lua is the coding language required for this game.
Does Roblox have tutorials for creating Tycoon games?
Ans – No Roblox does not provide any tutorial for creating a tycoon game.
 Is Lua easy to learn and work on?
Ans – Yes, Lua is a very simple and easy coding language.
Can we earn money from Tycoon games?
Ans – Yes, Tycoon games are a very good source of income and business platform.
Check out our Roblox Guides mega page!