Roblox Shirt Template: Roblox has truly emerged as an inspiring as well as a fun game for numerous kids and many professional gamers too. basically, they can create, design, and divide their experience along with the 3-D patterns and motifs.
Most popular games on Roblox, without a doubt, have been Hide-and-Seek, Tycoon franchise, MeepCity, and Jailbreak. But what most of the people and players out there are not aware of is that these games and all other games have been fantasized, pictured, coded, and designed by fellow Roblox players.
Being creative and building your own world has been very much pleasing for the users. As the players are allowed to design their own games, they are also allowed to create their own clothing for their game virtually. Basically, Roblox encourages many users to use those tools and instruments for designing clothing parts.
How to Make Shirts in Roblox?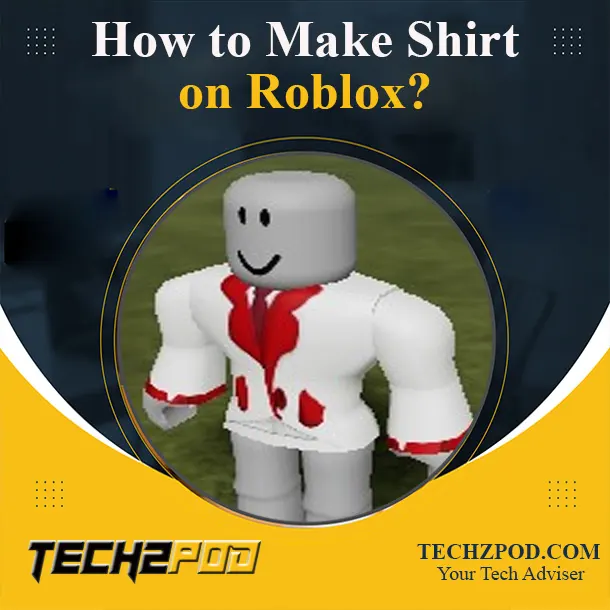 When you join Roblox, you need to create your own 3D epitome or avatar. There are many inbuilt features and characteristics that you can choose from while customizing your avatar. It is up to you how much you want your character to be unique.
Also, there might be people who really want their own styles and designs. Fortunately, they can do so by creating Roblox Shirts Template. All you need to do is get a template, any source of editing software or device which will help you to edit your clothing, and obviously, some rehearsals.
Many Roblox users love the idea of how they can play with their imagination and creativity and how they have the freedom to do so too.
How to make a Roblox Shirt Template
Well, this is one of the easiest ways you can design your Roblox T-Shirt template and design your own T-Shirt in your Roblox game. We have listed down a proper method for beginners.
Decide what design you want for your T-Shirt. If you are trying designing for the first time, elementary designs would work the best. And also, these designs will only be seen on the front side of the character.
As soon as you have decided what you want, produce the image crop it to 128×128 pixels, and save it as .PNG file accordingly.
There is another method too by which you can download other templates or clothing from the internet and with some permission too. There are sufficient websites that offer free-of-cost PNG catalogs that you can make use of.
After you have resized your image to 128×128 pixels and saved it as .PNG file, you are ready to upload it on Roblox to test it out.
How to Upload T-Shirts on Roblox
Go to the "Create" page on the Roblox application.
You will be able to see many options to upload your creations for T-Shirts, or Shirts or Pants on the left-hand side. Go for T-Shirts.
Tap on Choose File and select your creation.
Give a name to your creation. You can select whatever name you want for it; the more creative, the better.
Click on the Upload button. Now you are already as your design has been uploaded successfully.
How to Test Roblox T-Shirts
If you are a little bit confused about how your design looks, you can always test it out before uploading it on Roblox Studio. You can follow it as below:
Go to the Roblox Studio. Now, go to the Plugins tab and select the Build Rig.
A dialogue box will appear with the types of rigs you can construct and assemble. Select your desired appearance. You will see an assembled avatar – a customary avatar without any accessories so that you could test them on.
Click on the Explorer window. Under Workspace, you will be able to see a Dummy choice with a + button right next to it. Tap on the + button.
There will be two options in front of you – Shirt Graphic (for t-shirts) and Clothing (for pants and shirts). Go for the Shirt Graphic.
Under the Appearance tab in the Properties tab, there will be three choices Graphic, ShirtTemplate and PantsTemplate. Go for the row next to the Graphic option and select the .PNG image.
The dummy avatar present in the workspace will now be wearing your customized t-shirt.
How to make Roblox Shirt Template?
This is quite similar to Roblox T-Shirt template but this might turn out to be the difficult one. But don't worry as with the right and easy-to-use templates, you can crack this one too in the category of 3D graphics. Below are the instructions were given to create a Roblox shirt.
Firstly, you need to decide what type of creation you want to use for designing your shirt and you need to get hold of the customized templates by right-clicking on the template and saving it. You can also choose two at the same time if your intention is to make shirts as well as pants.
Basically, you need to follow all the rules which include boxes, outlines, and stuff. In order to have a folded and fully 3D image, you need to follow everything.
The most used software for editing is Photoshop, which is generally used by professionals. You can use many alternatives that are available online and open your template in the fellow editing software.
There are specific parts and each part defines a certain component of the shirt and will also specify if they suit the character's body or not.
Apply your design to every section. Resize those outfits if needed and change accordingly.
An important part is that this is a 3D graphic figure and it needs to be assembled perfectly or may look weird.
Save your creation as .PNG file and upload it on Roblox or test it on Roblox Studio.
How to test Roblox Shirts and Pants
Go to the Roblox Studio and open up the Plugins tab. Next select Build Rig.
You will be able to see a pop-up menu that will exhibit all the types of rigs available. Select your desired rig and it will show a customized and basic character for you to test.
Click on the Explorer window. Under the Workspace tab, you will be able to view a Dummy choice along with a + button next to it. Click on the + button.
There will be many options and select Clothing.
For Shirts: Select the option next to ShirtTemplate and add in your .PNG image.
For Pants: Select the option next to PantsTemplate and add in your .PNG image.
The character in your workspace will be wearing your customized clothing.