In Roblox, you can play games, participate in battles, create your games, and that too in groups. This can make your game more exciting.
However, groups can both be private and public. And you would be more than happy to hear there is no limit on the number of members you can add to your group- it can be in hundreds, thousands, or even millions.
Now if you don't know about this group feature in Roblox much, what are we here for? We will help you to make one. In this article, we will discuss How to Create a Group in Roblox? on your mobile device as well as your PC or Computer.
Keep following TechZPOD for more!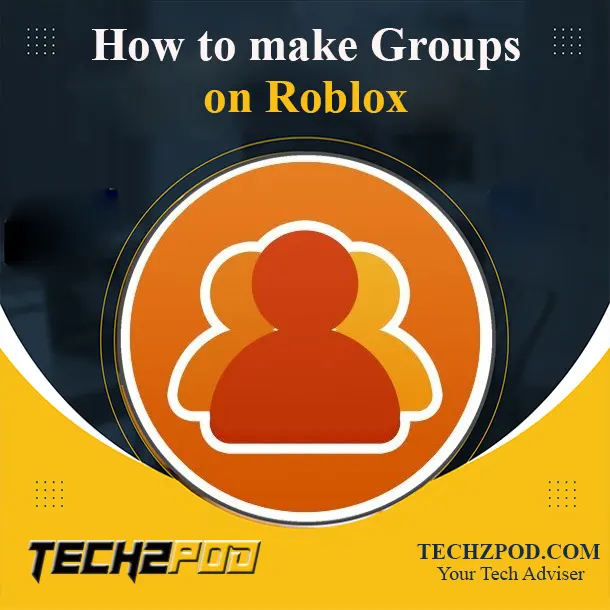 Also, Check Best Roblox Hair Codes
Make a Group on Roblox (Steps)
Creating Groups in the Roblox Mobile App
Using the mobile app of Roblox, you can use the group feature. But you can also visit the Roblox webpage and do it there. To make a professional and appealing group, you just need to follow the steps-
Open the Roblox app on your mobile device.
After opening it, at the bottom of the homepage, you will find an option called 'More'.
Click on it and the option named 'Group' will pop up.
On the upper side of the 'Groups' page, right next to 'Search All Groups', an option of 'Create Group' will be seen.
Three options, 'Name', 'Description' and 'emblem' are there under the 'Create Group' section.
Fill in all the sections by giving a suitable name to your group. However, the description section is optional. You may or may not fill it.
Now choose an image from your device and upload it in the emblem section.
Last but not least is the task of fixing the settings. Now here, there are two options available- Anyone can join and Manual Approval.
If you wish to give access to this group to everyone, you should click on the first option with 'Anyone can join'. But if you want to make it private, then tap on 'Manual Approval'.
After deciding all the settings, click on the 'purchase' option to buy the group and for this, you need to spend 100 Robux.
I know that 100 Robux is kind of expensive for a group but if you want a clean fresh group, you will have to spend that.
One more thing is that you can name your group anything you want. Make sure it is neither too long nor too short but something creative.
When you are ready with your group, start inviting people by sending them invitations to join you. Now if it becomes difficult to handle your group, you distribute responsibilities among group members and give them permissions.
In Roblox, you cannot delete a group that you have once created. There is also no option given for editing the name of your group.
Also Check: Roblox Jailbreak Codes
Using a Computer/ Laptop/ Desktop
If you want to play games using a big screen, that can never be a problem. And if it comes to creating groups in Roblox, I can assure you nothing is easier than this if you follow all the steps.
Start your computer or laptop. Go to a web browser of your preference.
Open the Roblox webpage.
Click on the navigation panel or three horizontal dots on the left-hand side of your screen.
Select the 'Groups' option.
Tap on 'Create Group' appearing on the right side of the screen.
Give a suitable name to your group.
In the 'Description' section, write carefully as this will be visible to the other group members.
Select an icon or image from your computer and put it as the emblem.
Remember to save all the changes before you move to the next page otherwise, it won't be uploaded.
Now select the accessibility option you want to go within the settings section.
For making the group public, choose 'Anyone can join', and to make it private, click on 'Manual Approval'.
After selecting all the details, purchase the group with 100 Robux.
Also Check: Roblox Toy Codes
Believe me, it is worth it!
Now, these are the basic steps you need to follow if you have to create a group in Roblox whether on a computer or a mobile phone.
Conclusion
Before wrapping up, quickly go over the steps you need to follow to create a group in Roblox.
Firstly, go to the groups' section and there, create one. Fill in all the necessary details fix the settings you want to change and don't forget to save it. In the end, buy the group and start sending invitations to people you want in your group.
If you think 100 Robus is a lot to spend just to create a group on the platform, we empathize with your concern. But also look at the bright side of the picture.
A group can lead to a big community and you will have the advantage of engaging in battles, creating exciting games with your friends and group members.
FAQs
How to create a group in Roblox?
You have come to the right place and we are here to offer you the correct answer. If you can, check out this article. We have mentioned in detail how to create a group in Roblox using your mobile as well as your computer. But sum it up here also, open the app, if you have it or the webpage and click on 'Groups'. From there, you can tap on 'create group'. Fill in all the details change the settings and save it.
Can I delete the group I created?
No, you cannot. This option is still not available in Roblox. Once you create a group, you cannot delete it.
Is creating a group in Roblox completely free?
No. It is not completely free. After you create a group and fill in all the details, you will be asked to buy or purchase that group. You need to spend 100 Robux to execute it.
How many members can you add to one group?
You will love the answer. There is no restriction on the numbers you can add. You can invite and add as many people as you can manage.
Also Check: How to Redeem All Types of Roblox Promo Codes?