Roblox Promo Codes: Every month Roblox comes with a new promo code and these codes can be redeemed to buy virtual items. You would be surprised to know that there are many types of promo codes. But if you have got one and don't know how to redeem it, do not worry. We are here to discuss how to redeem all types of promo codes in Roblox.
But a promo code will not be active for a long time. So it's better once you get them, go to the Roblox website or open your app and quickly redeem them. Otherwise, it is going to be wasted.
Here, we have given you a list of Roblox promo codes, where to find them, and How to Redeem Roblox Codes.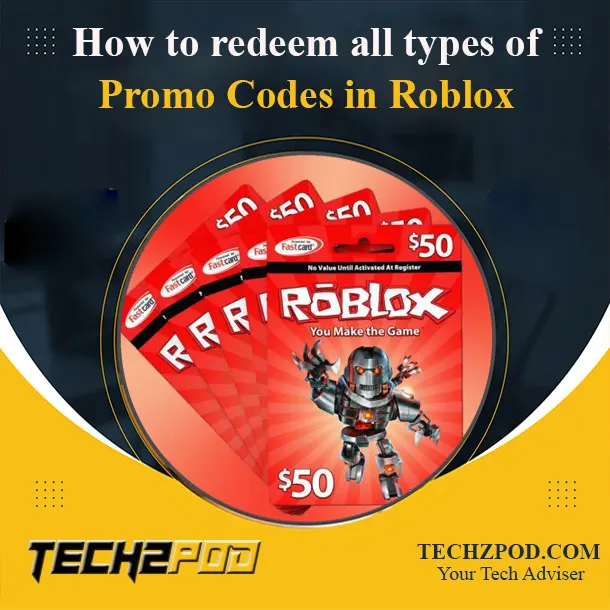 What are Promo Codes in Roblox?
Promo codes in Roblox help you to get free virtual items. Now, these items are of many categories- cosmetics, goodies, weapons, accessories, and more. These items can be used to make your Roblox avatar look better.
For every Roblox game, there are promo codes and on redeeming each promo code, you will get a free item. Now, this item is specific and has been fixed by Roblox beforehand.
Also Check: How to Make Hair in Roblox?
Where to find Roblox Promo Codes?
But what if you have no idea where to find those Roblox promo codes. How do you get those? That is way too easier than redeeming codes on Roblox.
These Promo Codes are often distributed in events arranged by Roblox. You can even try to get them through their giveaways. But the code needs to be valid and if so, you will get a free virtual item that will be there in your Roblox account.
How to Redeem Roblox Promo Codes from Mobile
Redeeming a promo code is too easy. You don't need to be tech-savvy or have an excellent knowledge of technology to do it. You just follow these steps we are going to mention here and your Roblox avatar will be ready to jump into games.
Open your phone and go to the browser you use to search for things.
Open your browser and type 'roblox.com/promocodes'.
Now you need to sign in to your Roblox account by tapping log in at the top.
You may be required to type a captcha here to verify your account. When you have done that, scroll to the right of the page.
Enter your promo code in the textbox.
Then tap 'Redeem'.
If you have entered a valid promo code, then a message will appear with 'Your promo code successfully redeemed'.
Now your redeemed item will be in your inventory.
The process is also the same for those who will be using desktops, PCs, and laptops.
Also Check: How to Enable Shift Lock in ROBLOX?
Types of Roblox Promo Codes
Every year Roblox releases many promo codes but in 2021, there were not many. However, we have got plenty to discuss.
The newest promo code of Roblox right now is 'ROSSMANNHAT2022'. When you redeem this promo code, you will get a 'Chilly Winter' Wizard Hat.
The second promo code that we have is '

TWEETROBLOX

'. This code has been there for a long time. On redeeming this code, you will receive a 'The Bird Says___'.
The third promo code is 'SPIDERCOLA'. If someone has got this and hasn't redeemed it till now, then what are you doing? Just redeem it now for the free item Spider Cola you will get.
The next code is '

StrikeAPose

'. For this code, you will get a '

Hustle Hat

'.
'DIY' is another promo code that you can redeem on Roblox and after redeeming it, you will get the 'Kinetic Staff'. It is a really good accessory that will make your Roblox Avatar stronger. You can wear it on your back and look cool.
You can also use this code 'SettingsTheStage' and the free item you will get is a backpack. It will perfectly match your hat.
The next code is 'WorldAlive'. Now, what will you get this time? A shoulder item- Crystalline Companion. It almost looks like a small goblin with golden outlines and wings.
You type the code 'GetMoving' and you will be rewarded with another free item. It's 'Speedy Shades' this time and let me tell you, it will make your avatar look super cool.
'

VictoryLap

' is the next promo code you can use on Roblox and the free item you can earn this item is 'Cardio Cans'. It goes well with Speedy Shades.
One recent promo code on Roblox is 'TARGETMINTHAT2022' and the virtual item you will receive is a Peppermint Hat.
You may find the promo code 'ThingsGoBoom' in the Mansion of War game. The item you will get here is Ghastly Aura Waist.
The next code you can use is 'SMYTHSCAT2022'. The item you will get is King Tab Hat.
You can also use the promo code 'KROGERDAYS2022'. Here, you will receive an item called Golf Shades. Your Roblox avatar will be looking super cool after wearing these.
Apart from these promo codes, there are many that you can use. But you always need to keep an eye on whether the code is valid or not.
Usually, Roblox promo codes do not remain active for a long time as they release quite a lot every month. So, before using a Roblox promo code, check they are available to use or not.
Also Check: ROBLOX for PC Download: Windows 10, 8 & 7 (Direct Link)
Conclusion
Promo codes on Roblox are easy to acquire and can be redeemed. They can be used to get free items like clothes, accessories, weapons, etc.
In this article, we have discussed how can you redeem a promo code on Roblox on your device whether it is a mobile or PC.
However, before using a promo code, you need to check whether it is active or not because in Roblox, promo codes are only available for a fixed period of time. So if you do not use it within its validity time, it cannot be redeemed later.
There are other ways to buy Roblox items except using promo codes. But here you can add items to your inventory without any extra cost and that is the plus point of using promo codes.
So if you are someone who plays games on Roblox and wants to know how to redeem the promo codes, this article is for you.
FAQs 
Can I redeem a promo code on Roblox? 

Yes, you can. In this article, we have given all the possible information about how to redeem your promo codes. But to tell you the process, in short, you need to first get a promo code. Then log in to your Roblox account. You will be asked to enter your promo code and tap on the redeem option.

Do we get rewards after redeeming a promo code in Roblox? 
On redeeming each promo code you have received, you will be rewarded with a virtual item. These items are of many types- clothes, weapons, accessories like hats, shades, headphones, etc.
Do Roblox promo codes expire? 
All Roblox promo codes are only available for a specific period of time. It has an expiry time. Once a promo code gets expired, it can no longer be used. So if your code does not work, the possible reason can be the promo code has been expired.
Also Check: How to Download Roblox on PS5?
Can I redeem my Roblox promo codes on my mobile phone? 
Yes, you can redeem all of your Roblox promo codes using your mobile. You just need to open your web browser on your mobile and then sign in to your Roblox account. After verifying your account, go to the redemption page and enter your code. Then type the code carefully and click on the redeem button. If your code is valid, you will get a confirmation saying 'Your Promo Code successfully redeemed!'
Keep following TechZPOD.com