You probably or most definitely would've heard Discord if you are a gamer or if you love to stream video games. While the Discord application is primarily focused on gamers and the gaming community, it is also used by other individuals and communities that may or may not engage in activities related to gaming. Ever wondered how others italicize their words or sentences in Discord when you have never come across this option personally?
Discord's software supports a variety of communication features such as voice chats, video calls, and classic text messaging as well. You can even format your texts as bold, italic, underlined, and use different fonts easily with the addition of certain specific syntax code blocks. Discord is a multi-purpose and multi-functional software supported on all major platforms such as Linux, Windows, macOS, iOS, Android, and can be accessed through various web browsers.
Looking for a way to screen share in Discord? Check out our post Enable Discord Screen Share and Fix Blank Screen While Screen Sharing to know-how and fix related issues and problems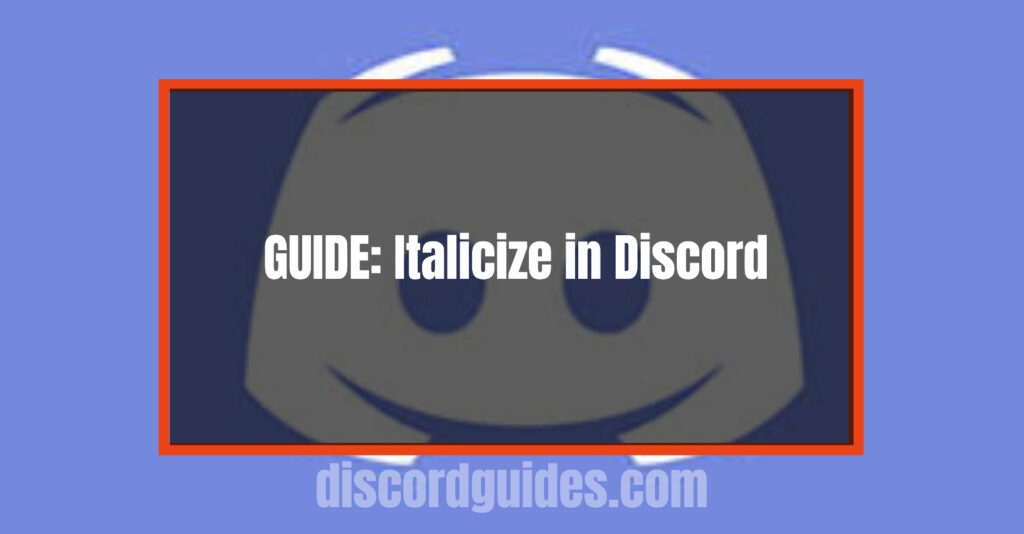 The app is essentially a communicative platform that functions as a sort of hybrid of Skype and social media. The most traffic generated for this application is from the gaming community and it is because this application works as a perfect medium for streaming games. Gamers also have the option to communicate with other players during the live stream.
How to Italicize in Discord – Utilising the Markdown Command for Formatting
John Gruber and Aaron Swartz created the Markdown originally in 2004. It was intended to make the reading and writing experience more enjoyable. Markdown can be said to be a simple markup language. The Markdown feature is not reserved for Discord alone. Reddit users use Markdown in the platform to format comments and WhatsApp also incorporates the same function.
Discord's Text Formatting system integrated with the Markdown text has two main methods to make the text italic. The fundamental thing to know about these markdown texts is that they can be used to create underlined texts, bolded letters, italicize, strikethrough texts, and even add colors through a straightforward process.
Discord Boxted Text – This word piece provides an elaborate comprehension of the whole underlying process behind italicizing the texts created in Discord. The textbox provided in Discord allows for the usage of the Markdown syntax, which is only a very lightweight text formatting mechanism that will help you to make your words and sentences prominent. This function can be performed with the mere use of the keyboard for the addition of a symbol or a combination of symbols required for the specific varieties of formatting.
Firstly, open the Discord application. Click on the icon with a white game controller placed on a blue circle to launch the software.
Find the chat-box and type a message in it.
Then proceed to add an underscore key (_) on both ends of the text which you wish to italicize. For example, if you want to italicize "Roses are Red", then type it in like _Roses are Red_
Once the above steps are done, press Enter and your text will be displayed to the reader in the italicized form.
If you aim to only italicize a part of the content in your sentence, then only encase the necessary content with the underscore symbol.
Want something better than Discord? Do you know about Better Discord? It's a refined version of Discord – Check it out What is Better Discord? Best Themes & Plugins of Better Discord and How to use it?
Italicizing Bold Texts in Discord
With the instructions given above, you now know how to convert your texts into italics, but how to do it with another form of formatting is a question that remains to be answered. How can you italicize and bold a text at the same time?
The working process to achieve this is similar to the one shown above, but here the Markdown syntax being used is different from the one used previously. While underscore was the symbol being used before, to attain the combined format of the bold and the italic, we use asterisks over here.
Navigate to the textbox and type in a message that requires to be formatted
Add three asterisk symbols by pressing SHIFT + 8 prior to and after your message. For example, if the sentence "Violets are Violet, not Blue" is the one that requires formatting then it has to be typed out like ***Violets are Violet, not Blue***
Once finished with the above instructions, press Enter and send the message.
The application will convert it to be Bold as well as Italic to the readers of your text.
These small tweaks to the format of your texts can enrich your chatting experience and make it more vibrant. And certainly, it is better some fluctuations in your texts, rather than the same, plain thing.
Facing audio problem in Discord? Check out Can't Hear People on Discord Problem to know how to fix it.
Italicizing Underlined Texts in Discord
The next combination to be explored is Italic + Underline in a single sect of text. These formats will certainly up the uniqueness quotient in your messaging for a majority of the users have not explored this side of discord and for the same reason have not utilized it to its full extent. You can use these options effectively in different ways to present your various ideas and thoughts. Given below are the instructions to present texts in italic and underlined format simultaneously.
Locate the textbox and type the message which you wish to format
Type two underscores and one asterisk before and an asterisk and two underscores after the text. An example can be shown with the sentence "Honey is Sweet", where for the format to work you have to type it like __*Honey is Sweet*__
Press Enter once you are done and send the message
Once sent, the message is automatically converted to the format of your choosing, which in this case is the Italic + Underline.
Learn how to completely uninstall Discord from your computer if you don't want to use it anymore.
Italicizing Texts with Strikethrough in Discord
This is another style where you combine the italic and strikethrough formats. By exploring different text formats you can engage and attract more audience. For a strikethrough alone, add a tilde (~) at both ends of the text you want to format. Given below are the steps to achieve the combined italic and strikethrough form of formatting.
Open the Discord textbox and enter the message
Add one tilde and one asterisk (~*) before the sentence and one asterisk and one tilde (*~) after the sentence.
It will transform into the Italic + Strikethrough format as you send the message.
Italicizing Bold and Underlined Format in Discord
Like the information previously mentioned in this write-up, the different combinations of keys and symbols will produce various results with regard to formatting. Here, the three different forms of presenting a text are combined together to give you one format, and mentioned below are the steps to attain it. They are italic, bold, and underlined.
Type in a message in the Discord application's chat-box
Continue to add in this combination of symbols (__***) before the word and add (***__) after the word, excluding the bracket they are currently encapsulated in.
Proceed to send the message
Your message will now be shown as an italicized bold and underlined text, all at the time to the viewers of the message.
This is one of the simplest ways to achieve various formatting styles in your texts and, in a sense bring some life into them. Many new and frequent users may have confusion on how to italicize texts in the Discord app. This does not deserve your worry or stress for everybody would be unsure of the features of any application, especially if they have just been introduced to it. It is very easy to apply the Markdown syntaxes or codes to get expected results.