How to turn off Safe Chat in Roblox Step by Step guide.
About Safe Chat Feature
Roblox is a very robust and big gaming platform and it allows users of all age groups even the kids to play and develop games with full security and safety. The kids many a time get exposed to the external environment in a bad way due to gaming platforms that allow interaction with people from different corners of the world. With Roblox, users can interact and send messages to others which the parents may not feel is a secure thing for kids.
Roblox has taken care of this with the safe chat mode that does not allows users below the age of 13 years to sent abusive messages, if they try to send any such content it automatically gets converted into hashtags. Safe Chat is a great feature in Roblox as the parents can see who their child is interacting with and what kind of game he or she is playing. Safe chat allows users to put restrictions while chatting with someone in the game.  They can also decide who can follow them, view their profile, or request them to trade in Roblox games. But this also restricts users from various other features so the adults want to turn off safe chat mode like users cannot send numbers to each other Roblox considers them as a code. By default, safe chat mode in Roblox is enabled for every Roblox account so you need to turn it off.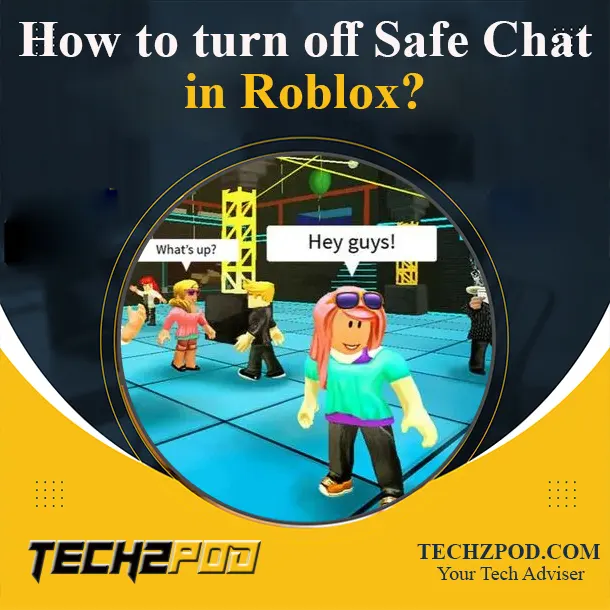 Steps to turn off safe chat in Roblox
Users can follow the below-mentioned steps to turn off safe chat in Roblox:
Open any web browser on your device and login into your Roblox account. If you are a new user then you can create your account by providing your email id.
At the top of the home page, there will be an option named My Roblox, just click on that and then open the drop-down menu.
After that go to My Account and there go the Privacy settings.
Click on the safe chat mode option and from there you can turn it off as it is turned o by default.
After that safe chat mode will be turned off you are not restricting any player or developer to interact with you.
Fixing error in turning off Safe Chat on Roblox
While many times users face difficulty in turning off safe chat mode for their Roblox account and they cannot resolve it. In such a situation, they can call or chat with the customer care executive of Roblox and the team will guide them in turning off safe chat mode. The toll-free number is available on the official website of Roblox and users just need to provide the email id of their account to turn off safe chat mode. The team will turn off safe chat mode if your age is more than thirteen years, but if your age is less than that you can request them to change it but then you have to provide sufficient evidence about your age.
FAQs
Does safe chat mode allow users to decide who can message them?
Ans – Yes, they can set this in the privacy settings while enabling the safe mode.
Is safe mode allowed to be used on mobile devices?
Ans – Yes, safe chat mode can be enabled on mobile devices through the Roblox app.
Do users need to pay for safe chat mode?
Ans – No. users do not need to pay for it it is a built-in basic feature in Roblox.
 Does turning off safe chat mode allow people to share bad content?
Ans – Yes, by turning offs safe chat, the payers can send you bad content.